Hasler Lab Fleet Vehicle Information and Policies
Hasler Lab Online Reservation System – provide funding information so mileage is charged correctly.
Hasler Lab – How to use online reservation system
Trout Lake Station – Email Amber Mrnak for details
---
UW Vehicle Use Guidelines
Only state employees, authorized University of Wisconsin System students, and other authorized agents of the state may drive a state vehicle.
Non-state employees may ride in a vehicle only if authorized and on official state business. Any questions regarding this long-standing UW policy should contact John Burmaster or Aaron Nolan (Hasler Lab), and Amber Mrnak (TLS).
Use of a state vehicle must be for official state business only. Incidental use associated with state business is strictly limited.
State vehicles shall not be used for personal purposes.
Drivers and passengers must comply with all state laws. Drivers are personally responsible for paying all citations–you will not be reimbursed for violations of traffic laws.
Drivers are responsible for immediately reporting all accidents and any vehicle damage to state vehicles. Not reporting will jeopardize your right to drive.
All accidents and damage must be reported within 24 hours. Contact Aaron Nolan (Hasler Lab) or Amber Mrnak (TLS) for how to proceed. Failure to report accidents and damage will jeopardize the driver's driving privileges.
If you will need to drive for your position, please go to the portal to complete the Driver Auth online form:
Type of employee: UW
Click Logon
Choose UW-Madison
Click Logon
Login with your NetID
Under New Fleet Driver:

Review the Fleet Policies
Click "Vehicle Use Agreement" and follow the instructions

Our UDDS code is A484120
Center for Limnology Guidelines
Sign out all vehicles before using.
If no vehicles are available for use, speak with Aaron Nolan (Hasler Lab) regarding possible UW Fleet or Dept. of Administration vehicle use. At the Hasler Lab, sign out a vehicle using the online reservation system. See the Online Vehicle Sign Out Instructions document below.
Drivers must be authorized for trailer use before using any trailers. Contact Aaron Nolan (Hasler Lab) or
Amber Mrnak (TLS).
 regarding trailer use authorization.
Drivers should walk around the vehicle before use and note/report any damage to Aaron Nolan (Hasler Lab) or
Amber Mrnak (TLS).
Make sure all trailers are securely attached along with safety chains. Hook up all trailer wiring pigtails.
Check that all tail lights work. Make sure all loads are securely strapped to the trailer.
Fill up the vehicles when the fuel gauge reads a ¼ tank (instructions below)
Do not park in front of bars and other places where attention may be drawn to the state vehicle.
Return vehicle at or before the return time noted on the sign out sheet. If you are unable to return by indicated time, call Trout Lake Station (715-356-9494) or the Hasler Lab (608-262-3014).
Filling Vehicle Fuel Tanks
Madison area users should use the fuel pumps at UW-Madison Car Fleet and Service Garage (27 North Charter Street) whenever possible.  Otherwise, any fuel pump that allows for "pay at pump with card" will work for state fuel cards.
Use the fuel charge card in the wallet attached to the key ring for the vehicle.
The PIN is the last 4 digits of the "UA" number in the lower left corner of the card PLUS two zeroes.  For example, a UA number "001234" would be a PIN of "123400".  Another example UA000113 would be PIN "011300"  See the attachment at the bottom of the page for a image of the card showing the numbers.  The fuel code is in the pocket with the vehicle key.
Gas Card Example: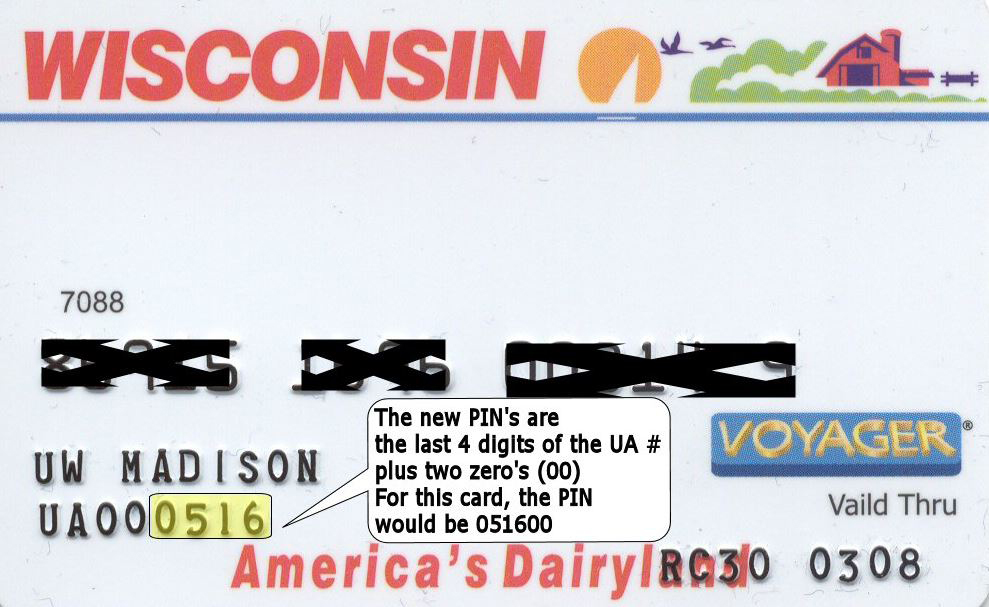 ---
For comments or suggestions regarding this page, contact Aaron Nolan (Hasler Lab) or Amber Mrnak (TLS). updated 1/8/21