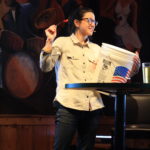 Forget the lecture, at Science on Tap-Minocqua, you won't find jargon or a PowerPoint presentation – we search for scientists who are good at well, not sounding like a scientist. Our topics are wide ranging, spanning issues from bacteria to bees and from a search for life on other planets to a search for the perfect pint.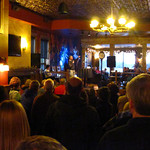 The series provides a forum where the public engages experts in an informal, two-way conversation about important issues of the day.  Speakers provide 15 or 20-minutes of opening remarks, then the floor is opened for questions, letting the audience join the conversation. The result is a dynamic, engaging community gathering.
Science on Tap-Minocqua is the result of a unique partnership among UW-Madison's Trout Lake Station, UW-Madison's Kemp Natural Resources Station, the Lakeland-Badger chapter of the Wisconsin Alumni Association, the Minocqua Public Library and the Minocqua Brewing Company and exemplifies the Wisconsin Idea – that the boundaries of the university are the boundaries of the state.
July 31, 2020 – Trout Lake Station Open House was VIRTUAL with an interactive scavenger hunt on Vilas County lakes.  To access the scavenger hunt go to this link – https://actionbound.com/bound/TLOH2020 – there will be a "start guide" to download from that page and an overview of ratings and how many activities there are within the scavenger hunt.