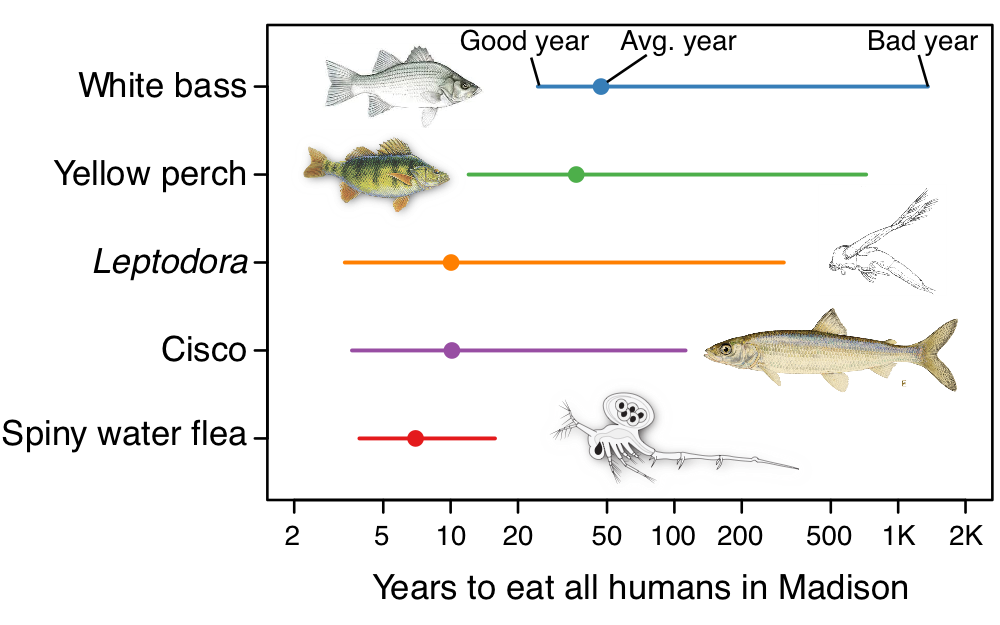 Lathrop, D., and J. Vander Zanden. Small Invader, Big Appetite: Spiny Water Flea Transforms Food Web of Lake Mendota.
Small Invader, Big Appetite: Spiny Water Flea Transforms Food Web of Lake Mendota
Figure – we used our calculations of zooplanktivory in Lake Mendota to estimate how much biomass each zooplanktivore consumed in terms of the time it takes to eat the biomass equivalent to the mass of the human population in Madison. The voracious spiny water flea clocked in with the fastest time of roughly 7 years to consume the equivalent of the human biomass of Madison.
Since its detection in 2009, spiny water flea's voracious appetite has changed how Lake Mendota works. More spiny water flea has meant less of its prey, Daphnia pulicaria, which are important native grazers that keep algae populations in check. Fewer Daphnia means green, murky water. Our study found that the tiny, invasive spiny water flea has a profound impact on the lake and eats a staggering amount of zooplankton each year. By our calculations, if you weighed the amount of zooplankton they eat every seven years, it would equal all of the people living in Madison. What's more, even though fish like cisco and perch also eat zooplankton, we estimate that spiny water flea has accounted for the majority (62%) of the zooplankton eaten in Lake Mendota since 2009 and that the total amount of zooplankton being eaten in the lake has more than doubled. As a result, Daphnia pulicaria populations have declined by roughly 90%, and water clarity by 1 m (a little over 3 feet). While reducing spiny water flea's abundance could lift some predation pressure off Daphnia, it's extremely hard and often impossible to manage invasive species once they've established in lakes. Fortunately, we can still improve water clarity by reducing the amount of agricultural run-off into the lake. In fact, our work here suggests it might be the only option we have left.
Walsh, Jake. R., Richard C. Lathrop, and M. Jake Vander Zanden. 2017. Invasive invertebrate predator, Bythotrephes longimanus, reverses trophic cascade in a north-temperate lake. Limnology & Oceanography 62: 2498-2509
Document