by Susan Knight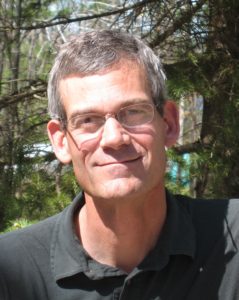 In June 2017, Tim Kratz retired after more than 36 years at the Center for Limnology's Trout Lake Station (TLS). Tim graduated with a BS in Botany from UW-Madison in 1975, migrated over to Minnesota for his MS and migrated back to complete his Ph.D. at UW-Madison in 1981. Tim started his career at TLS as the site manager for the North Temperate Lakes franchise of the National Science Foundation's (NSF) then brand-new Long Term Ecological Research network. Tim was a lead on the project for most of his career and became director at TLS in 2000.
Tim's research interests included bogs, long-term changes in lake ecology, lake metabolism, and interactions between land, groundwater and surface water. Tim contributed to the greater scientific community as a journal editor, and reviewer for countless proposals and articles. He helped develop the Global Lake Ecological Observatory Network (GLEON), which took him to nearly every continent where he helped launch scientific buoys into lakes across the globe. One especially memorable trip to Taiwan involved the untimely arrival of a typhoon and Tim and his team stranded on top of a mountain.
Tim was as dedicated to science as he was sharing that work with the broader public.
He hosted lake associations and school groups at TLS, enthusiastically organized the TLS annual open houses and, while at a brewery in Ashland, WI in 2013, stumbled on an advertisement for a science café – which led to the idea to start Science on Tap-Minocqua. To everyone's surprise, about 200 science-starved enthusiasts showed up for the first program at the Minocqua Brewing Company to hear Tim and colleague Tom Steele talk about lakes and land in the Northwoods. Now, five years later, Science on Tap-Minocqua continues to thrive.
In his later years as director, Tim took time away from TLS to serve two stints at NSF Headquarters in Washington D.C. – first as a program officer in the Division of Environmental Biology and later as program officer in MacroSystems Biology.
Tim's quiet but effective leadership at TLS, GLEON, and NSF assures his scientific legacy. And, coming full circle, after retirement Tim once again migrated to Minnesota. He and his wife now live in Duluth, where Tim is learning how to ride his bike in much steeper terrain than the Northwoods.