by Adam Hinterthuer
Cover Photo above:  Standing on a concrete pier more than six inches under water, graduate student Daniel Haryanto and undergraduate Ella Norris look out to the horizon as the rising water of Lake Mendota floods the boat slip underneath the Arthur D. Hasler Laboratory of Limnology on August 24, 2018.
Photo: Jeff Miller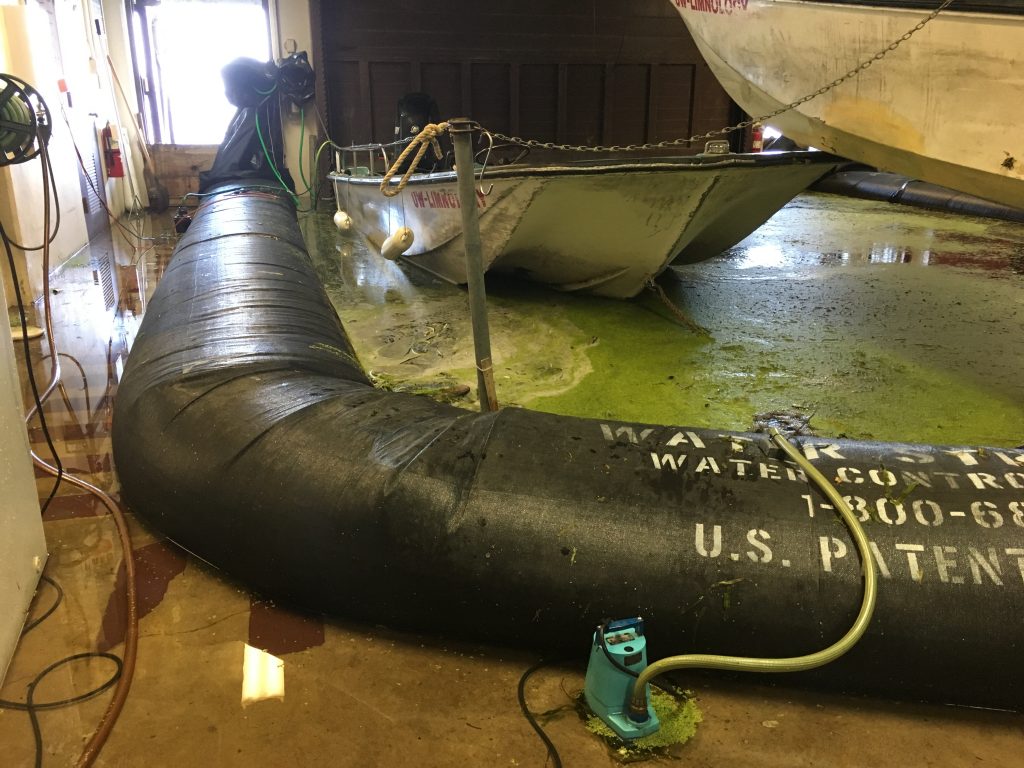 This summer, an unwelcome houseguest moved into Hasler Lab. As the Yahara watershed received staggering amounts of rainfall, already elevated waters levels rose even more and Lake Mendota started knocking on our back door. Eventually, it let itself in. Even as summer turned to fall, we still had an inflatable dyke, water pumps and industrial-strength dehumidifiers deployed down in the boat slip.
Of course, the fact that Dave Harring, the Center for Limnology (CFL) facilities manager, had to wear waders to work for a couple of months is a mere inconvenience compared to the destruction Wisconsin's 2018 floods have had in terms of homes damaged, roads and bridges washed out and, in a few tragic cases, lives lost. But our soggy basement does serve as a reminder that weather like this is becoming more common and a sign that the impacts of climate change are here, now.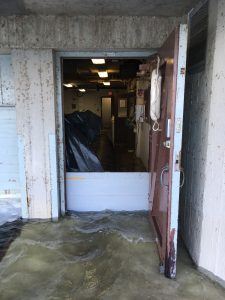 Immediately after the August rainstorm in Dane County, we noticed that this message isn't exactly getting out to a wide audience. While every media outlet covered the floods and many interviews involved people who had "never seen anything like this," the words "climate change" rarely came up – a strange omission, given that we are already seeing an increase in the frequency and intensity of storms like these and computer models predict even more extreme rain events for Wisconsin's future.
This isn't just a Wisconsin issue. A recent report found that, across all platforms, news coverage of extreme events is falling short on reporting on climate change. For example, out of 127 segments aired about 2018's global heat wave, only one mentioned global warming. And NBC and ABC never even brought it up during our most recent record-breaking hurricane season.
Part of the problem is that it is scientifically impossible to pin a singular weather event on climate change. When a reporter comes calling, most scientists are reluctant to assign blame.
But there are things we can say when reporting on the weather.
Humans have been documenting weather events for hundreds of years and researchers have noticed alarming trends in that data. In the U.S., extreme tornado outbreaks are increasing. Hurricanes are getting more intense. And extreme precipitation events are much more common than they used to be – especially in the Midwest and Northeast U.S.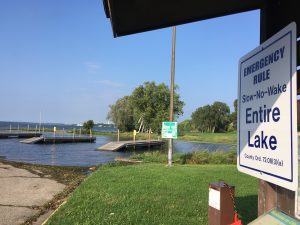 Climate change is not just some future problem looming on the horizon. It's here now. And we're dealing with its impacts. We've seen this in our own work – from shrinking lake ice to declining walleye populations to increasing harmful algae blooms. All are impacts associated with a warmer world.
Here at the CFL, we are trying to do our small part in helping inform the public about what climate change may mean for the future of our freshwater systems. Just as our coverage of massive blue green algae blooms last year reached thousands of Wisconsin residents, our blog and social media posts and media outreach about the floods this summer helped readers understand how the event led to historic flooding, how our own land-use decisions made the problem worse and what these kinds of changes may mean for the biology, chemistry and ecology of our lakes, rivers, streams and wetlands.
Here in Madison, the event revived a debate on how we manage water levels in our lakes. Should Lake Mendota's target levels be lowered so that it can hold back a higher volume of future flood waters? If so, what does that mean for the people and businesses who rely on the current levels to get their boats in the water, fish off their piers and otherwise get around on our city's largest lake? And what should we do with downstream dams, like the one in Stoughton, that acts as the last "plug" in the Yahara Lakes' drainage basin?
As these public conversations and policy debates get tossed about, we will continue to supply the best possible science we can to help inform the discussion, adjust to a new normal, plan for future weather events, and learn to better live with our lakes.