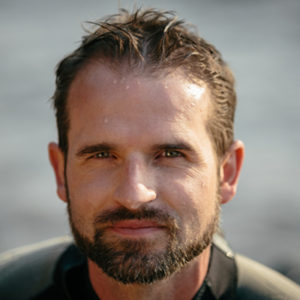 This year, the Center for Limnology (CFL) bid farewell to Pete McIntyre as he moved back to the place where he received his Ph.D. to become an associate professor in the Department of Ecology and Evolutionary Biology at Cornell University. We wish Pete and his family the best in their new location but can't deny that he leaves a fish-shaped hole here at Hasler Lab.
Pete was hired at the CFL in 2010 and launched an ambitious set of research projects that mixed field studies with large-scale spatial analyses across the globe. Pete's lab conducted studies on migratory fishes in the Great Lakes, native gobies in Hawaiian streams, local fish conservation efforts in Thailand, and the dynamics between nutrients and productivity in Africa's Lake Tanganyika.
When he wasn't globe-trotting, Pete was also a dedicated science communicator for the CFL.
Pete headed up the CFL's outreach efforts in our partnership with Chicago's Shedd Aquarium and their annual "World Fish Migration Day" event. He also worked with citizen scientists monitoring spring fish migrations in Lake Michigan near Chicago and was a yearly fixture at the CFL's Hasler Lab Open House, where he could be found down in the boat slip wrangling rock bass and common carp for our curious, younger visitors.
We know Pete will be an invaluable addition at Cornell and look forward to seeing what other far-flung adventures he gets up to!