by Adam Hinterthuer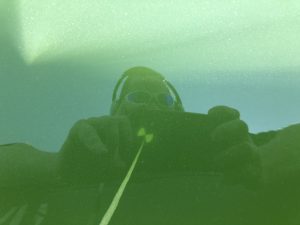 Earlier this summer, Ted Bier was out on Lake Monona with the Madison skyline bobbing in the background collecting samples for the North Temperate Lakes (NTL) Long Term Ecological Research (LTER) project. It was Bier's 18th year with the NTL-LTER but, like most things in 2020, it was anything but routine.
For starters, Bier was alone on the water. Back on shore, research specialist Alice Ogden-Nussbaum, who would normally be helping take plankton tows or filtering water samples, sat watching Bier through binoculars so she could call for help should he fall into the 50-degree water.
While these "socially distant" measures kept fieldwork safe and allowed the CFL to continue doing research this year, Bier says that the inability to share the workload took its toll. In most years, an LTER crew can be on a lake by mid-dash morning, back to the lab early afternoon and then, after processing samples, make it home for dinner.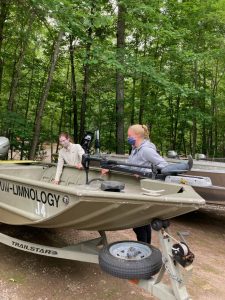 But, "when you have to do a lake by yourself," Bier says, "it takes two to three times longer so, realistically, it's a twelve-hour deal."
Of course, the CFL was lucky that our faculty, graduate students and field technicians got to do research at all this year.
"Based on the time-sensitive nature of the long-term sampling, you just can't put it off and do it later," says CFL director Jake Vander Zanden. "Plus," he says, "we had several ongoing whole-ecosystem experiments and just didn't want to give up on those."
Vander Zanden credits staff at both Hasler Lab and Trout Lake Station (TLS) for quickly putting together COVID-safe protocols and getting "essential research" approval from the University. He was also thankful for help from College of Letters & Science Associate Dean Gloria Mari-Beffa, who "went way above and beyond in helping us to make it all happen," he says. "In the end, we pulled off a pretty awesome field season."
Gretchen Gerrish, who began 2020 excited for her first full season as director of TLS, agrees. She found herself scrambling in March as COVID-19 precautions sent station staff into "work from home" mode and shut down the usual flood of summer undergraduates. In the end, only a handful of graduate students and research technicians were allowed on station – and, even then, were required to quarantine for 14 days upon arrival and limit social and fieldwork interactions to each research project's "pod."
"We lost a really important component without undergraduates," Gerrish says, but "we still had a really productive summer. It's kind of shocking how much happened in terms of the amount of research that took place. It was neat to have our graduate students think-tanking and working in small groups. You didn't see a lot of people, but a lot happened."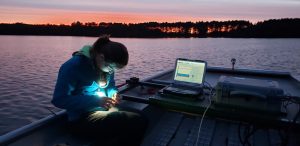 For Joe Mrnak, these developments meant he got to spend another field season with a very familiar partner – his wife, Amber.
This was an important summer for Mrnak, a new Ph.D. candidate who is working jointly under Jake Vander Zanden and Greg Sass at the Wisconsin DNR, to launch an ambitious research project trying to restore native cisco populations in northern Wisconsin lakes.
In their life together, Amber had already worked for credit on Mrnak's undergraduate senior thesis and spent two years on payroll as one of the research technicians for his master's degree. But, when the pandemic left him without his undergraduate field crew, he says, she went above and beyond anything she's had to do before.
"Amber is a 7th and 8th grade science teacher in Poynette and, when our [field season] kicked off, she was online teaching all of May and the first week of June and still helping me with my fieldwork," he says.
Joe and Amber lived in the upstairs level of Juday House on the station while two other research technicians occupied the downstairs apartments. A handful of other graduate students were also scattered across Trout Lake's cabins with their own research pods. While hanging out in the lab or someone else's cabin was off limits, Mrnak says, they were able to safely enjoy bonfires and fishing trips and a quieter summer up north.
"I'm a recluse, so 2019 was crazy with all the undergrads," Mrnak says. "2020 was awesome from my perspective."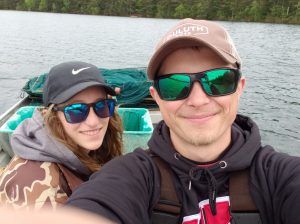 Other than missing out on a WDNR rainbow smelt removal that happened right after ice-off in early spring, Mrnak says his field season was relatively unaffected by the pandemic. A lot of that, he says, had to do with the "phenomenal leadership" of Gretchen Gerrish. From getting creative with his crew assignments, to expediting paperwork, to making sure equipment and schedules were all lined up and ready to go, Mrnak says, Gerrish "really made the summer successful."
Not everyone's summer was quite so uncomplicated. Back down near Madison, Ted Bier not only had to work around pandemic restrictions, he discovered even more challenges awaiting him at Fish Lake, one of the LTER study lakes just northeast of Sauk City.
"Fish Lake has unprecedented flooding, it's up almost five feet in last few years," Bier says. The result is that it has overtopped the land between it and Mud Lake and the two are now a single body of water Bier began calling "Fud Lake."
It was so flooded that Fish Lake's boat ramp was too far underwater to reach without drowning his truck, so Bier had to get creative in order to reach his sampling spots.
One ill-fated early attempt at getting all of the LTER sampling equipment to the middle of Fish Lake involved an extra-large swim raft. Unfortunately, Bier says, a submerged fence post tore a hole in the raft.
"The boat was collapsing around me, so I had to jump in to save five-grand worth of equipment," he says. Luckily he was able to wrap the deflated parts of the raft around the more sensitive equipment and swim safely back to shore.
After another misadventure with a quickly stolen canoe, Bier ended up purchasing a small plastic bass boat from Cabela's which let him get out on the lake and ensure that the LTER's 40 year program of monitoring our lakes continued uninterrupted.
If this summer showed us anything, it's that the show must go on – no matter how distant we have to stay from our fellow researchers or how high the waters get on our research lakes.