by Adam Hinterthuer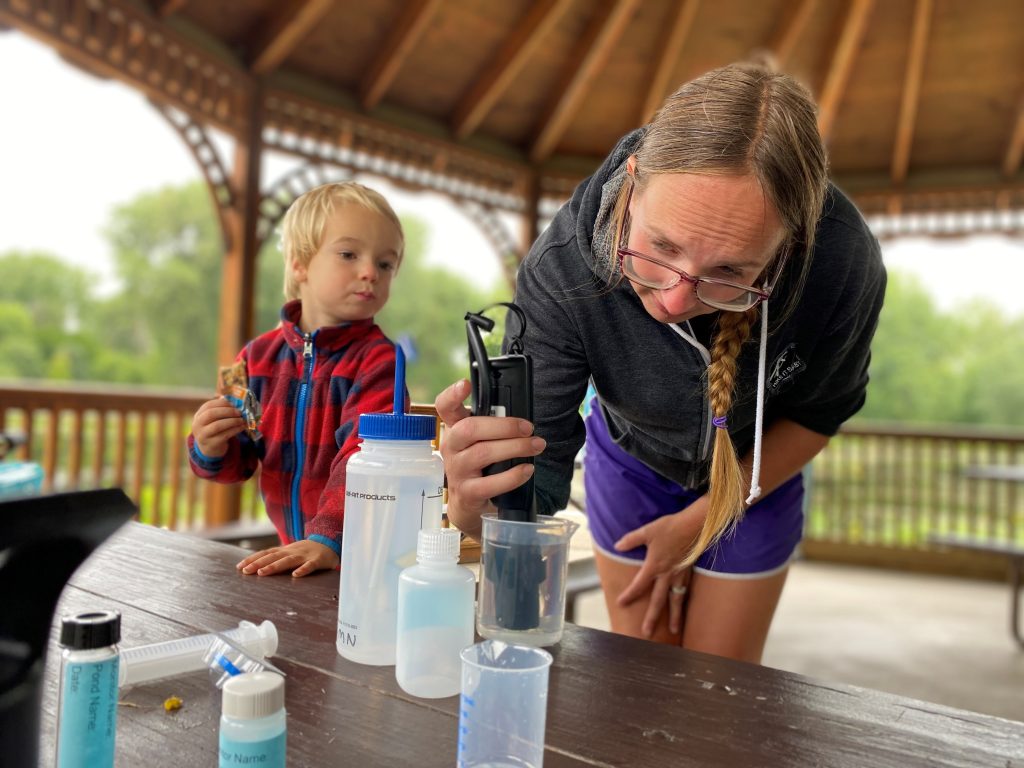 On a rainy June day in 2022, members of Grace Wilkinson's lab at the CFL set up a couple of folding tables with microscopes and a display of assorted limnological information near a small pond in Elver Park on Madison's west side.
It was their very first "Pond Exploration Day" and they were there for two reasons. First, to introduce passersby to their local body of water and, second, to recruit members of the public to help with an ambitious new study on urban ecosystems.
While no one volunteered on that first soggy day, the Wilkinson Lab's "Community Water Monitoring Network" was up and running by the end of the summer, with more than a dozen community members signed on to help CFL researchers better understand some of the more than 300 stormwater ponds and other small water bodies throughout Madison.
Now, with two summers in the books, the program is running strong, consisting of seven teams of volunteers that visit their assigned pond each month. Each team is equipped with the scientific tools they need to record data on things like temperature, water clarity and conductivity (a measure of salinity), as well as physically collect water samples that are then sent back to the lab for processing.
Amanda Pickart is one of these volunteers and, along with her children, collects data on a pond in Middleton's Lakeview Park each month. Pickart says that the past year has been a "rewarding experience" and has grown her family's connection to the small slice of urban nature they study as well as to the university and the community.
"It's been really fun to return to the same nature spot over an extended period of time and get to know the space on a deeper level," she says. "I love that my kids are able to see research being conducted by the university in a tangible way and inspire their own scientific discoveries."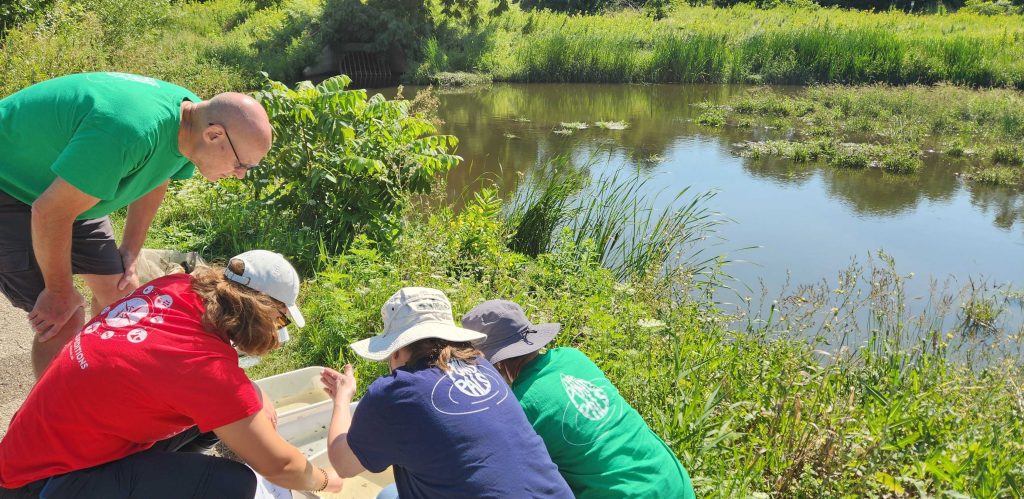 As of this fall, Amanda and the project's fourteen other "Pond Pals" have recorded more than 3,000 observations and measurements and collected nearly 200 water samples at six ponds scattered around the Madison metropolitan area.
At some of the sites, says Wilkinson lab manager Helen Schlimm, these community members are "the only people we have collecting data," which means that these volunteers are responsible for much of what we know about these ponds. "They're contributing to science," Schlimm says. "Their data is absolutely being used."
This community-generated data is crucial to getting at the bigger picture of these tiny bodies of water, says Wilkinson, an associate professor at the CFL and the lead researcher on the project.
"The collective eyes and ears of our community monitoring partners combined with their local knowledge of the ponds has been critical for addressing our current research questions and generating new ones," she says. "The sensors that we deploy in the ponds provide one way of 'viewing' the ecosystem and how it changes through time, but the combination of human observation and local knowledge, physical sample collection, and sensors provide the best context for understanding how these ponds are changing."
Schlimm agrees, saying that the program is "thriving" and, noting that the lab has retained all of its original volunteers. "I think of it as our 'small but mighty' team," Schlimm says. "We're reaching fifteen people who really do science and make observations, [and] share the experience with each other and their kids."
Schlimm says the project adds to the growing movement to engage more members of the public in this kind of citizen, or community, science. And, hopefully, it shows people that science is accessible and approachable and not just something for a professional in a white coat in a lab. "The common definition of a scientist needs to be debunked," Schlimm says. "If you're going out and observing anything and keeping track of how it changes and taking pictures, that can be science."