by Adam Hinterthuer and Sydney Widell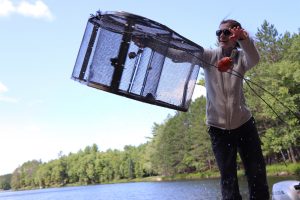 When Holly Embke backs her boat trailer into Iron County's McDermott Lake this summer, it will launch her fifth straight year of research on the lake. All told, Embke estimates that she – with the help of a rotating cast of research partners and undergraduate field technicians – has pulled 215,000 bass, bluegill and crappie out of the one-hundred-acre lake.
But Embke, a University of Wisconsin-Madison graduate student, hasn't spent half a decade wildly overfishing the lake for fun. She's hoping that her massive haul can tilt the scales in favor of another species of fish – walleye.
As almost any Northwoods angler can tell you these days, the bass catch is booming while walleye seem harder and harder to find. A lot of that has to do with our warming lakes. Walleye do better in cooler conditions while bass like it nice and warm. Still, Embke, along with her partners at the University of Wisconsin-Stevens Point and the Wisconsin Department of Natural Resources, suspects that other factors may also be keeping walleye numbers down.
"Bass and panfish are thought to be competing with walleye in their really early life stages — either competing directly with them [for food] or even eating them." Embke explains. "There is potentially an interaction between those very tiny walleye and sunfish and bass that stops walleye from getting to that next juvenile stage."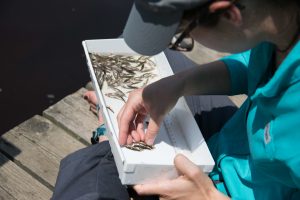 To test this hypothesis, Embke will spend yet another summer loading up her gear at Trout Lake Station – a research facility in Vilas County run by UW-Madison's Center for Limnology – and commuting to McDermott Lake multiple times a week to remove as many bass and sunfish as possible and then monitor the fish populations left behind to see if, by getting rid of the competition, the lake's walleye population can rebound.
Embke says that, during last summer's field season, her team finally started to see a decrease in panfish populations like bluegill, so she's hopeful the change in McDermott Lake's fish populations will benefit walleye. That information will help researchers begin to trace the boundaries of what Holly calls a "safe operating space" for walleye, or the conditions that allow them to survive despite combined impacts of different environmental stressors.
"There are factors you can't control as a fisheries manager, things like climate change or habitat changes," Embke explains. "But there are smaller things within your control, like the harvest of walleye or other species."
For ecologists and recreational walleye enthusiasts alike, setting those boundaries will be crucial to maintaining healthy walleye populations in a warming Northwoods.