by Madelyn Gamble, 2023 Trout Lake Station summer scicomm intern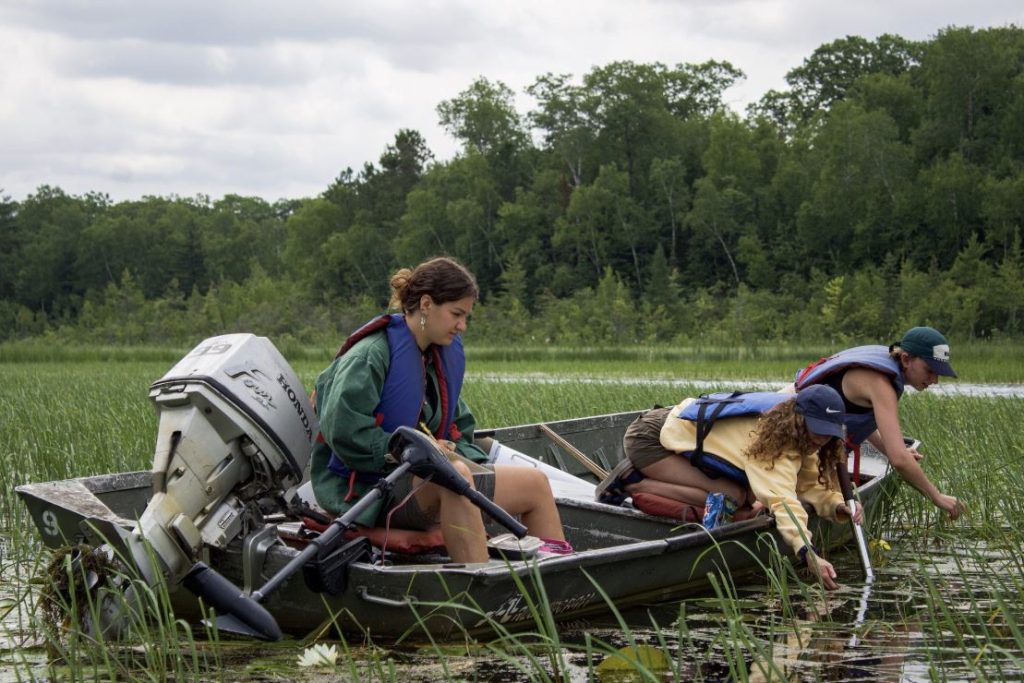 This article is an abridged version of Madelyn Gamble's original post of the CFL blog. Maddie worked as Trout Lake Station's summer science communication intern this year, along with her fellow intern, Anna Mueller who was Hasler Lab in Madison, WI. To read more of both their work, visit the CFL blog.
Last Monday, I woke early to join our wild rice crew for a day of sampling. I knew the day would be a chance to learn more about this important native plant species and was excited to get out on the water.
After a quick boat ride out to the wild rice bed, visiting Georgia Institute of Technology graduate student Eric Greenlee and I hopped into a canoe. The wild rice summer field crew, consisting of UW-Madison undergraduate Ally Kundinger and recent UW graduates Sagen Quale and Moira Keith switched out the outboard motor on their jon boat for a pair of rowing oars. Since the wake from a motorized boat can uproot wild rice plants and kill them, we had to take things slow. As they rowed, thunder rumbled in the distance – nature's clock was ticking on this sampling adventure.
Manoomin (wild rice) has been harvested for many generations in northern Wisconsin by Native American communities. Manoomin shares a long history with the Menominee people and is part of the Ojibwe migration story that led to their settling in the Great Lakes region. Harvested in the early autumn, wild rice is valued as a resilient resident of many waterways and holds many life teachings.
While Indigenous people in Wisconsin lost access to many lands during logging and colonization in the early and mid 1800's, they never lost their connection to wild rice, advocating for waterways and retaining their rights to gather and manage rice beds in what came to be called the "Ceded Territories." Today, the species remains vital to many Indigenous communities as Tribes across the state work to preserve and restore Manoomin populations.
Trout Lake Station is excited to be partnered with several communities on its wild rice research, including the Lac du Flambeau Band of Lake Superior Chippewa. This partnership fosters efforts to restore declining wild rice populations while preserving the cultural connections to the species. It allows researchers to learn about the history of the plant, in hopes of implementing effective and ethical sampling methods.