by Adam Hinterthuer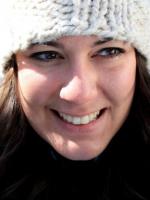 Not all news in 2020 was bad, and one particularly good bit of news here at the CFL is that Grace Wilkinson will soon be joining join our faculty at Hasler Lab! (In fact, as this newsletter went to press, she had just closed on a house in Madison.) Grace comes to the CFL from Iowa State University, where she was an assistant professor in the Department of Ecology, Evolution and Organismal Biology studying ecological resilience and nutrient dynamics in lakes. While we'll obviously have to wait to celebrate in person, we did reach out to Grace so she could introduce herself to her new limnological community.
Tell us a little about your research.
My research program focuses on the dynamic links between lakes and the surrounding terrestrial landscape, and how these links shape processes within the lake. Currently, I have been focusing on the long-term trends in algal blooms and the role of land use and climate change in driving harmful algal blooms. (Editor's Note: Here's another bit of good news from 2020 – Grace's most recent paper on harmful algal blooms found that, despite popular perceptions, there's no evidence they're actually getting worse.) Additionally, we're working on understanding the consequences of these changes on carbon cycling in lakes with really high nutrient loads and production.
What made you apply for the opening here at the CFL?
I spent a lot of time "CFL-adjacent" during my PhD and collaborated with scientists at both Hasler Lab and Trout Lake Station. I was always impressed by the collaborative community of limnologists doing cutting-edge research. After a few years developing my research program at another university, I was drawn to the CFL-model of community and resource sharing and jumped at the chance to have such wonderful and knowledgeable colleagues!
Is there anything you're especially excited about in terms of moving to Madison and getting more familiar with Wisconsin lakes?
I have spent a fair bit of time over the past decade in northern Wisconsin at the University of Notre Dame's Environmental Research Center (UNDERC) and Trout Lake Station. However, I've spent relatively little time on the lakes in the Madison area. I'm looking forward to "getting to know" these lakes outside of the academic literature and building connections with the water community here in Madison. As for moving to Madison, I'm excited to take advantage of the wonderful outdoor spaces in southern Wisconsin and I look forward to exploring the food and arts scene in town when it is safe to gather in these spaces again.