by Adam Hinterthuer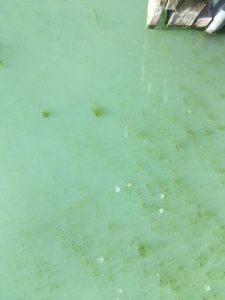 June 16th was a hot, sunny Friday in Madison and Steve Carpenter couldn't believe the view from second-floor perch in the Hasler Laboratory for Limnology. West to the UW-Madison Rowing team's boathouse and east all the way to James Madison Park, the calm waters of Lake Mendota looked just like teal-blue paint.
The massive bloom of toxic blue-green algae was "the worst one I've seen in a long time," says Carpenter, recently retired director of the CFL. In fact, the bloom was the largest to mar Mendota's shoreline since the summers of 1993 and 1994.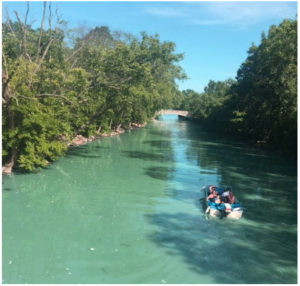 Like this summer, those summers were marked by "classic" conditions for an algae bloom. Madison was beset by higher-than-average rainfall and that rain was coming in intense storm events. In a landscape dominated by agriculture, these gullywashers carry manure waste from dairy farms and synthetic fertilizers used to help crops. And the nutrients (especially phosphorus) contained in these pollutants run into our lakes, where it is really good at growing algae.
Algae also like it warm and, when it got hot in June, Carpenter says, "we had this incredible spin up of cyanobacteria (blue-green algae) in the surface water and then the wind stopped, and these kinds of algae are buoyant and they just floated to the top in this awful scum."
The bloom was hard to miss. Besides the highly unusual hue and unsettling stench, it was blown by the wind toward Lake Mendota's outlet into the Yahara River, where toxic, oxygen-starved water resulted in a large fish kill. Despite this, there was extremely little coverage in local Madison news outlets.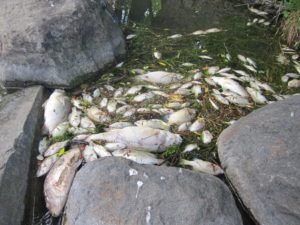 A few articles noted the "stinky" water. One local TV outlet posted an online news story about people, "unfazed" by the bloom, going swimming. And that was it.
Here at the CFL we were surprised that a story with potentially dire consequences for both our local lakes and public health wasn't bigger news. So we decided to at least share the story to our readers and followers on our blog and social media feeds. The unexpected results showed that we are reaching far beyond the halls of academia with our outreach and communication efforts.
To begin with, local news media took notice. Within a day of our algae-induced blog post, the Wisconsin State Journal featured a long front-page piece on the causes and consequences of algae blooms. WKOW, the local ABC affiliate that had run the story of swimmers brushing off the bloom, broadcast a closer look at algae in their "Digging Deeper" series.
But most rewarding was the fact that we were able to reach big audiences on our own.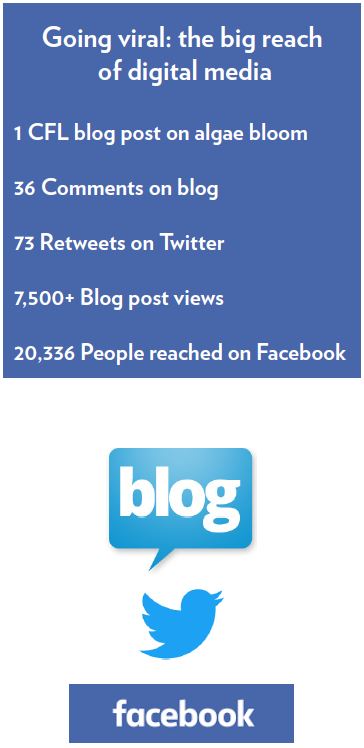 In two days, 7,500 people read our initial blog post on the algae bloom. A lively discussion began in the comments section as people thanked us for informing them about what they'd witnessed over the weekend, vowed to warn friends and family against swimming or paddling in the potentially toxic waters and brainstormed ways to tackle the problem. Our Facebook post landed in more than 20,000 news feeds. Our Twitter feed "blew up" as they say these days.
Considering that our mission at the CFL is to "exemplify The Wisconsin Idea by providing new knowledge and information on aquatic ecosystems," we were thrilled with the engagement and dialogue we were able to create.
It underscored the importance of science communication in a new landscape where shrinking newsrooms and reduced coverage of natural resource issues often leaves news outlets unprepared to cover emerging environment and public health stories.
We were happy to, however modestly, step in and try to address that gap.
Hopefully it won't take another harmful algal bloom to bring Wisconsin's iconic lakes back into the limelight but, if it does, we'll be sure to let people know.
Go to CFL blog to read full post.