CFL Researcher Works to Preserve Our Freshwaters
by Adam Hinterthuer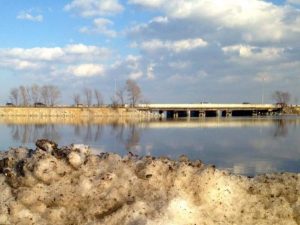 Since the 1940s, road salt has been used to keep winter roads navigable by melting away snow and ice. Today, some 23 million metric tons of sodium chloride-based rock salt is applied to North American roads each year. Much of it washes into nearby water bodies, where it begins to add up, says Center for Limnology assistant professor Hilary Dugan.
In fact, 44% of North America's lakes are getting saltier, which is bad news for the plants and animals that call them home. While some species may be better able to tolerate salty waters than others, "our native species are adapted to freshwater," Dugan says. "Salt will stress them out and any kind of stress is taking away from their ability to survive and reproduce."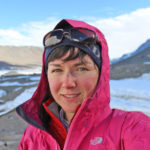 Dugan spent much of her early career exploring naturally salty lakes in Antarctica but, starting with a study published in the Proceedings of the National Academies of Sciences in 2017, she's broadened that focus to include waters closer to home.
Dugan is currently at work on a "risk map" of all the lakes in Wisconsin that will predict the chloride concentration for a lake based on attributes like its proximity to paved surfaces or the amount of development around it. Such a map would be useful from a management point of view, Dugan says.
For example, she is in regular contact with the Wisconsin Department of Transportation (WDOT).
"I'm able to provide maps and data showing that this is a problem in every county in Wisconsin," Dugan says, which helps "show them what's being impacted and then they can go to their stakeholders and say, 'Look we really need to change what we're doing.' It saves us money in the long run. Salt is cheap, but it's not free! So if they reduce use, they reduce their budget. It can be a win-win as long as we maintain that level of safety."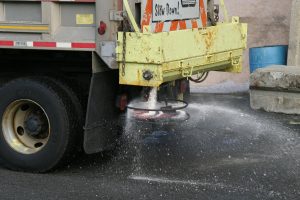 Dugan points to WDOT studies on brine as one positive development. Brine, or a salt and water mixture that is sprayed on roads, sticks to the surface better than the rock salt that often simply bounces from the back of the snowplow and into a roadside ditch. The WDOT is also being more judicious in salt applications in spring she says, preferring to let those late March and early April snow showers simply melt away, rather than head out and dump tons of salt on our roads.
But, she warns, "there's been very little effort [to address this] in the private sector." Road salt is especially problematic during snow removal on large parking lots, which are often managed by private snow-removal companies that have no incentive not to use as much salt as possible.
"There's this perceived liability and they cake parking lots full of salt," Dugan says, estimating that private snow removal companies may be responsible for as much as half our total road salt use. "There's still a long way to go to cut that back," she says but early responses to her research showing the extent of the problem are encouraging.
The public sector, especially state departments of transportation in the Midwest and Northeastern U.S., are "leading the pack" in addressing the increasing salinity of our freshwaters, she says, especially in Wisconsin where "they're pretty serious about cutting back salt use in the state."