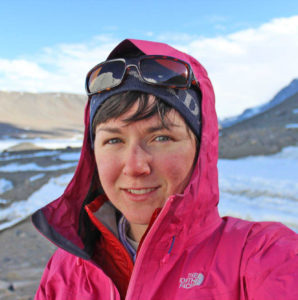 We are thrilled to announce that the Department of Integrative Biology has hired Hilary Dugan to be an assistant professor and a faculty member at the CFL. Here are a few things to know about the newest addition to Hasler Lab:
Hometown: Woodstock, Ontario, Canada
Educational background: BSc, Queen's University, 2008; MSc, Queen's University, 2010; Ph.D., University of Illinois at Chicago, 2014
How did you get into your field of research? I was always fascinated by earth sciences, and how ecosystems worked. During my undergrad, I worked as a research assistant in the Canadian Arctic and fell in love with fieldwork and studying global change. At some point, my interests narrowed to water and, eventually, lakes. Having grown up around lakes, this was probably a natural progression, but it took me awhile to get there.
What attracted you to UW–Madison? As a limnologist, there's no better place in the world to study lakes.
Favorite place on campus? The Memorial Union is top in my books. If you can't be out on Lake Mendota, spending time on its shore is the next best thing.
What are you most enjoying so far about working here? UW-Madison felt like home the minute I started working here. Across campus, people are welcoming and collaborative. Campus is a giant hive of activity and it is easy to get lost in all of the opportunities.