Gretchen Gerrish
by Adam Hinterthuer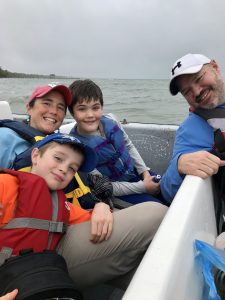 Last year we shared the sad news (for us, at least) that Tim Kratz was retiring as director of Trout Lake Station (TLS). This year, we get to share the happy news that we have hired his successor. We're thrilled to welcome Gretchen Gerrish to the Center for Limnology (CFL). (She'll start summer of 2019.) We asked her a few questions about her current work and what she hopes to do in the Northwoods.
Who are you, where are you and what are you currently studying? I am a teacher, mentor, researcher, friend, sister, wife, and mother. I am currently filling those roles while working as an Associate Professor at UW-La Crosse. I study evolutionary ecology in aquatic invertebrates and am currently studying zooplankton community changes occurring in the Mississippi River in response to invasion by Asian Carp. I also am researching a group of marine bioluminescent ostracods found in coral reef habitats in the Caribbean.
What made you apply to head up a research station way up near Boulder Junction? I applied because I want to put my efforts toward conducting research, mentoring students and facilitating science at a place where field studies are a central part of generating new discoveries. I am passionate about promoting nature-guided research and learning. The relatively pristine systems surrounding TLS along with the long-term data available on the region make it extremely valuable in pairing past and present understanding.
You spent a couple summers at TLS as an undergrad. Do any memories of the experience stand out? I was an undergrad at Lawrence University and was co-mentored by Bart DeStasio from Lawrence University and [former TLS director] Tom Frost. My first summer job was to [be involved with] chlorophyll and phytoplankton counts and other analyses from the Long Term Ecological Research (LTER) lakes. While not the most exciting job, my summer was filled by volunteering to help on LTER base crew, electroshocking, helping remove coarse woody debris from streams, etc. Helping graduate students and PIs on various projects filled my field skill toolkit and revealed the creative and problem-solving nature of science.
Is there anything you're excited about for the new job? Research questions you're already thinking about pursuing? I have a number of ideas but am excited to talk with folks more and cultivate collaborations. I plan to collect data (zooplankton microfossils, pollen, diatoms, chemistry, etc.) from sediment cores of the LTER lakes to see if we can match the long-term recorded data with dynamics inferred from the sediment record. Eventually, these data could be used to extend our understanding of these ecosystems back-in-time. I am excited to join the community of scientists at the station and CFL. Good people, common mission!