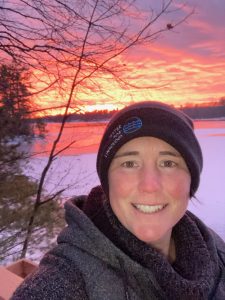 Renewal describes the past year for Trout Lake Station (TLS) and the Center for Limnology (CFL). During the summer of 2022, research returned to full capacity with students at TLS filling housing, designing new projects, tackling sampling two years delayed by COVID, and hosting 400 visitors at our annual Open House. It is always inspiring when the students arrive in the spring but that feeling was especially strong in 2022 since the arriving cohort were part of a generation whose in-person college learning experiences, like study abroad or internships, were limited in 2020 and 2021. Our 2023 summer is again running at full capacity with many new students enthusiastic to get their first hands-on experience learning about limnology and the incredible lakes and rivers of the region.
Renewal also comes from transitions. In recent years, we've celebrated, mourned and sometimes envied the retirement of five different Trout Lakers – individuals who cumulatively provided more than 150 years of service, experience, and knowledge to our station. I am ever grateful for the knowledge, wisdom, and patient mentorship that our recent retirees provided as they passed the torch to new people. With Carol Warden seizing her role in North Temperate Lakes Long Term Ecological Research; Amber Mrnak building new and innovative art, education, and outreach opportunities; and Jonathan Lytle joining as a mechanic to improve our marine fleet and ensure safe operations, we are excited by the new possibilities and strengths they bring to the CFL. And, by next year, we intend to create a Wisconsin Idea Researcher position at TLS to join the science team to further expand research partnerships and projects directly relevant to stewarding our local lakes.
With the growth and potential evident in our new and incoming staff, and the ever-inspiring young trainees that bring innovation and creativity to the program, I hope you join me in a renewed feeling of hope for all that is to come for the 2023 field season!
Gretchen Gerrish, Director, Trout Lake Station
ggerrish@wisc.edu
University of Wisconsin-Madison Center for Limnology