by Adam Hinterthuer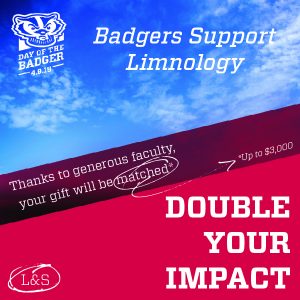 This spring, the CFL participated in the UW-Madison's first-ever "Day of the Badger," an online fundraising effort organized by the Wisconsin Foundation and Alumni Association. We weren't sure what to expect but hoped to raise $5,000 to support undergraduate research and CFL outreach activities.
The response blew us away. All told, we raised $7,111.50 from supportive friends and alumni (both old and new) who gave donations (both large and small). We even received some very nice notes – like this from Roy Stein:
"I was sitting in a coffee shop catching up on correspondence and the Day of the Badger came down from cyberspace. I can't "rightly" explain it, but I was overcome with both pride and gratitude … wondering where I would be if I had not had the CFL experience. If you will excuse an old guy reminiscing about his graduate-student days, what an experience we all shared. In those days, working meant you were "at the lab," leading to lots of time together, brainstorming research, reflecting on the field, gossiping about what was happening in the lab, on the hill at Birge Hall, the next big thing, politics, the list goes on. Those conversations, that interaction served as the underpinning for my own research perspective, [one] I brought to Ohio State University and built a lab around."
Day of the Badger 2020 will be April 7 and 8, so keep your eyes peeled for opportunities to spread the word and help support the CFL!