This is an accordion element with a series of buttons that open and close related content panels.
Limnology News, Fall 2023 - Cassie Ceballos, Quinn Smith, Bryan Maitland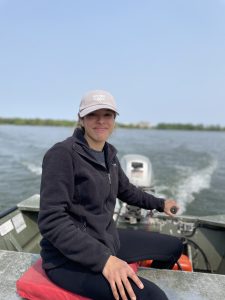 Cassie Ceballos (Ph.D., Stanley)
Cassie is originally from the western suburbs of Chicago, IL. She obtained BS and MS degrees in biology at Northeastern IL Univ. For her MS thesis research, she studied the algal communities that grew in a novel wastewater treatment system that was being tested to further reduce nutrients and pollutants in wastewater. This project ignited an interest to further understand how primary producer communities influence the movement of nutrients in natural systems such as freshwater lakes. In her first year at the CFL, Cassie began studying how aquatic plants have responded to rapidly rising water levels at Fish Lake in northwestern Dane County. When Cassie is not working, she enjoys spending time with her dogs Bacon and Linda and visiting family back home in Chicago.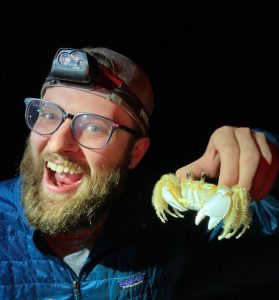 Quinn Smith (Ph.D., Vander Zanden & Jensen)
Quinn grew up in the Twin Cities, MN and completed his BS and MS degrees at the Univ. of MN–Duluth. While at Duluth, he researched changing habitat conditions in Lake Superior and the effect of coarse woody habitat additions on fish behavior in northern WI at TLS. Now at the CFL Quinn continues to research fish in the Northwoods. His PhD research focuses on walleye populations across the Midwest, and what confluence of interactions leads to successful fisheries and how we can manage these fisheries in the future. When he's not in the field, wrangling R code, or teaching the next generation of fishy folk, you can find Quinn fly fishing the Driftless, climbing the local crags, snowboarding in search of the next great line, or SCUBA diving in his favorite lakes.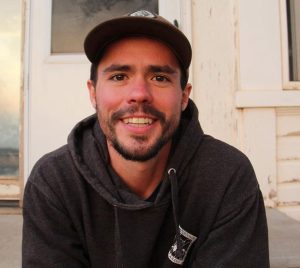 Bryan Maitland (Postdoc, Jensen)
Bryan was born and raised in New York City and completed his BS in Conservation Biology from SUNY: ESF. Summer undergrad research experience on the St. Lawrence River inspired his love of all things aquatic. He received an MSc in Conservation Biology from the Univ. of Alberta, before moving down the Rocky Mountains to the Univ. of WY for his PhD in Ecology. Bryan is a quantitative ecologist with broad research interests working on aquatic conservation and management. Recently, he has investigated the role of climate change on stream trout fisheries across Wisconsin, and the resilience and stability of the Lake Michigan food web. When he is not doing science, you can find him reading, fishing, or mountain biking.
Limnology News, Fall 2022 - Amanda Kerkhove, Danny Szydlowski, Ray Allen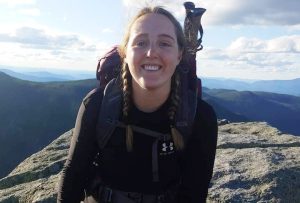 Amanda Kerkhove (MS, Jensen)
Born and raised in the Twin Cities (MN), Amanda got her BA in Biology at the College of St. Benedict and St. John's Univ. Her work in the Northwoods of WI as an undergraduate student opened her eyes to the possibility of a career in fisheries. After her BA she worked as a fisheries technician for the Univ. of Illinois at the Sam Parr Biological Station. She started her master's degree in August 2021, and from there she embarked on an eight-month field season spanning the state of WI, with the goal of understanding how recreational anglers differ between urban and rural areas, as well as between winter and summer seasons. Amanda is particularly interested in the impacts of angling technologies, like sonar and underwater cameras, on recreational angler's experiences. In her spare time Amanda spends her time backpacking, reading, and preserving food.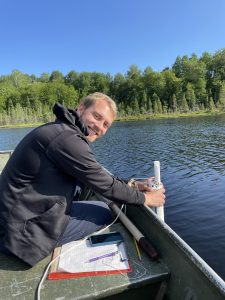 Danny Szydlowski (Ph.D., Wilkinson)
Danny is from Buffalo Grove, Illinois, but spent many summers growing up on lakes in Vilas County. After finishing his undergraduate degree in environmental engineering at the Univ. of Notre Dame, where he worked at UNDERC and first learned about limnology, he decided to pursue his interest in lakes with a MS at the Univ. of Illinois at Urbana-Champaign. After finishing his MS he started a Ph.D. at the CFL, where he studies the effects of external disturbance (especially storms!) on lake structure and function. He still has a special interest in the north temperate lakes which first gave him a love for ecology, and is excited to get to do summer fieldwork at UNDERC and TLS. When he's not working up north, Danny enjoys hiking, reading, running, and making lake artwork.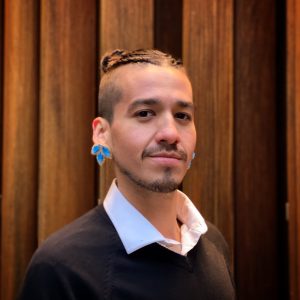 Ray Allen (Postdoc, Gerrish)
Ray is from Lac du Flambeau, WI and is a citizen of the Lac du Flambeau Band of Lake Superior Chippewa Indians. He received his A.B. in Chemistry-Biology from Ripon College in 2015, and his Ph.D. in Biology with a minor in Science & Society from Duke Univ. in 2021. Ray moved back to northern Wisconsin in 2021 to start his postdoc at the CFL's Trout Lake Station. He is a developmental biologist by training and junior Indigenous Science & Technology Studies scholar. His research interests include the impacts of climate change on lakes and seasonality, including freshwater fish development, spawning, disease, and human relationships to water. Ray is also interested in science art and science policy, and is a current Lac du Flambeau Tribal Council member.
Limnology News, Fall 2021 - Ellen Albright, Adrianna Gorsky, Friedrich Keppeler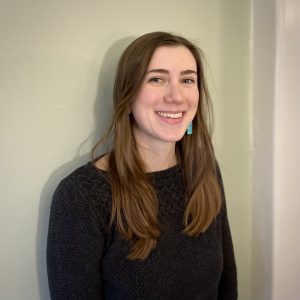 Ellen Albright (Ph.D., Wilkinson)
Ellen grew up in Cottage Grove, WI and received her BA in biology and geography from Macalester College. Summer undergrad research experience at TLS inspired her love of all thing limnology. She began her PhD at Iowa State Univ with Grace Wilkinson in 2017 and moved with her lab to the CFL in 2021.
Ellen studies how the nutrient cycles of shallow lakes vary across space and time and how all this variation impacts ecosystem behavior. She is especially interested in phosphorus, lakebed sediments, and aquatic plant communities.
Ellen used to spend her time out on the water and in the lab, but these days you'll find her in front of her computer writing.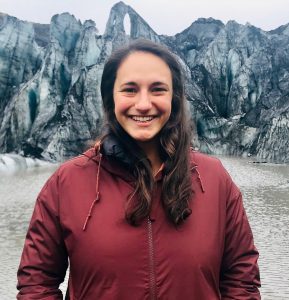 Adrianna Gorsky (Ph.D., Dugan & Stanley)
A Virginia native, Adrianna completed her BA in Environmental Science at the Univ of VA and worked for a few years at the Keck Lab at William & Mary before moving to Madison. She recently received her MS at the CFL. Her master's research was focused on methane and carbon dioxide dynamics during winter and spring ice melt at Trout Bog and South Sparkling Bog.
Transitioning to the Ph.D., she spent her summer focusing on water quality and methane production in urban ponds in Dane County. When she's not collecting gas samples, Adrianna enjoys anything outdoors from camping to fishing (a new Wisconsin hobby!) to embracing winter by cross country skiing and cross stitching.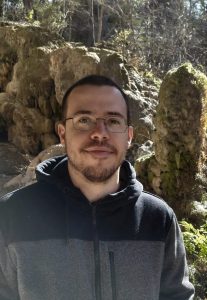 Friedrich Keppeler (Postdoc, Jensen)
Friedrich was born and raised in Porto Alegre, Brazil; completed his BA in biology at UNISINOS (Brazil) and M.S. in Ecology at UFRGS (Brazil). He moved to the US in 2015 for his Ph.D. in Wildlife and Fisheries Science at Texas A&M University; then to Madison in 2020 for his postdoc.
Friedrich is a community ecologist working primarily with predator-prey interactions and community structure in aquatic ecosystems. Interests include the role of body size and other functional traits on food web structure, anthropogenic impacts and their effect on functional and phylogenetic diversity, and community assembly processes. He passes most of his days in front of a computer analyzing/interpreting data, although craves opportunities to go to the field.
Limnology News, Fall 2020 - Robert Ladwig, David Ortiz, Ashley Trudeau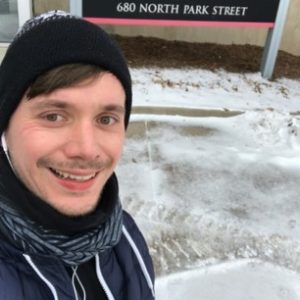 Robert Ladwig (Postdoc, Hanson & Dugan) @hydrobert
Robert is from Jena, Germany and completed his Ph.D. in Civil Engineering at the TU Berlin and the IGB Berlin. He was a visiting researcher in Saitama, Japan studying the effects of artificial re-aeration techniques on reservoirs.
A key point of his research at the CFL is the development of open-source scientific software for process-based lake modeling applications. He also explores the dynamics of dissolved oxygen depletion processes in lakes as well as how climate change will affect future summer stratification periods. As a computational limnologist, you will find Robert mostly in front of his computer if he's not too busy standing in front of a whiteboard.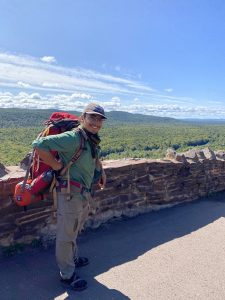 David Ortiz (Ph.D., Stanley) @H2Ortiz
David grew up in Des Moines, IA and completed his M.S. in Environmental Science at Iowa State Univ. While there, David's work focused around the ecological service of nutrient retention that wetlands provide. During his M.S., he concentrated on temporal and spatial dynamics of shallow eutrophic lakes.
David's Ph.D. work at the CFL is focused on spatial and temporal heterogeneity of lakes in both experimental and non-experimental states using the FLAMe sampling platform. David spends his summers in northern Wisconsin at either TLS or UNDERC collecting vast quantities of data. When he's not on a lake collecting data, he is found hiking, fishing or reading.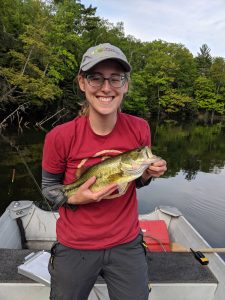 Ashley Trudeau (Ph.D., Jensen)
Ashley completed her undergraduate at UNC-Chapel Hill, taught middle and high school science for 4 years, and moved to Berlin for a M.S. in fish biology, fisheries science, and aquaculture at Humboldt Univ. As a Ph.D. student at the CFL, Ashley spends her field seasons in Vilas County interviewing recreational anglers.
Ashley studies the dynamics of recreational fishing effort in marine and freshwater fisheries, using multiple methods to observe and count anglers and then uses these data to understand how site characteristics, regulations, and angler preferences predict fishing effort at different sites. As a full-time WI resident, Ashley is excited to study the winter ice fishery.
Limnology News, Fall 2019 - Holly Embke, Ben Martin, Emily Whitaker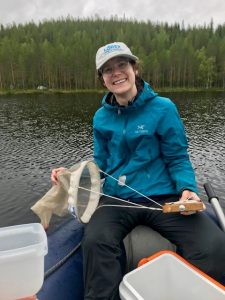 Holly Embke (Ph.D., Vander Zanden) @fishandbugs
Holly grew up in Eau Claire, WI and moved to Montreal, Quebec to study at McGill Univ for her undergraduate degree in Biology. A summer internship at the Northwest Fisheries Science Center in Seattle inspired her to complete a Master's degree in aquatic ecology at the Univ of Toledo.
Now at the CFL, Holly is pursuing a Ph.D. in Jake Vander Zanden's lab. Holly's research focuses on understanding the conditions needed to support self-sustaining inland fish communities in a changing climate. She is also the CFL's top fish wrangler – having removed nearly 200,000 bass, bluegill and other fish in the Centrarchid family from a single Wisconsin lake to see if fewer competitors open a window for walleye populations to rebound.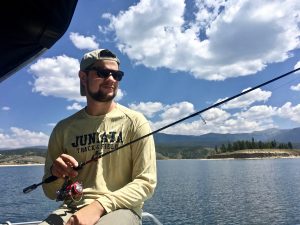 Ben Martin (Ph.D., Vander Zanden) @BassBen11
Ben grew up in New Holland, PA and completed his undergraduate degree at Juniata College in Central Pennsylvania. While there, Ben worked on a variety of research projects ranging from herbicide effects on smallmouth bass, to impacts of natural gas extraction (fracking) on brook trout ecosystems.
Here at the CFL, Ben works with Jake Vander Zanden on research focusing on food web disturbances in Wisconsin lakes invaded by spiny water flea, shifts in cisco communities in the Great Lakes, and the rabbitfish invasion of the Mediterranean Sea. When he's not in the lab feeding water fleas to Lake Mendota perch, Ben enjoys fly fishing, disc golf, and running – usually not all at once!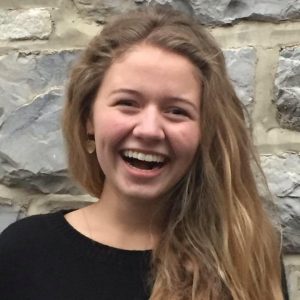 Emily Whitaker (Ph.D., Stanley) @EmilyCWhitaker
Emily is from Hopewell, NJ and received her B.S. in Physics from Dickinson College. She spent a summer at UW-Madison working with Ankur Desai and NTL-LTER researchers looking at ice thickness sensors and lake heat flux.
Emily jumped at the chance to be surrounded by Madison lakes again and joined Hilary Dugan's lab on a project studying the role climate change has on ice-on and –off dates and how that impacts lake ecosystems.
Emily is a winter limnology champion and spends the bulk of her fieldwork season at TLS during the frozen months. That said, this summer she managed to find a -10 degree Celsius walk-in freezer so she could keep analyzing samples!
Limnology News, Fall 2018 - Sara Collins, Rob Mooney, Kousei (Martin) Perales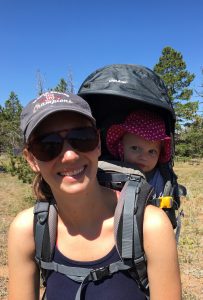 Sarah Collins (Postdoc, Stanley)  @eco_scollins
Sarah grew up in Bellingham, WA and received her undergraduate degree at Lewis & Clark College. Summer internships at Flathead Lake in Montana and Lake Tanganyika in East Africa inspired her to pursue a Ph.D. in aquatic ecology at Cornell University to study food webs in temperate and tropical streams.
At the CFL, as part of the Emily Stanley lab, she helped to build a database that includes water quality data for thousands of lakes at a continental scale. This work has allowed Sarah, Emily and a large group of collaborators to examine how stressors like land use change and climate change affect water quality in all United States lakes.
In August, Sarah took a position as an assistant professor in the Dept. of Zoology and Physiology at the University of Wyoming, where she plans to continue doing experiments and synthesizing data to understand how freshwater ecosystems work.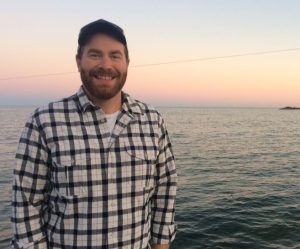 Rob Mooney (Ph.D., Stanley)  @MooneyRob
Rob is originally from Sauk Prairie, WI. He completed his B.S. and M.S. at UW-La Crosse. While living in the Driftless Area, he spent most of his time on streams – either fishing or conducting research. His experiences there magnified his appreciation for freshwater ecosystems.
When given the opportunity to pursue a Ph.D. at the CFL, he couldn't say no. Rob is studying seasonal and spatial nutrient dynamics in Lake Michigan's tributaries. Lake Michigan is the largest lake entirely within the United States, and Rob has travelled around its coastline numerous times to collect and analyze water from hundreds of streams and rivers that enter the Lake's coastal region.
"Seasonal shifts in Midwestern streams are a main interest of mine, " Rob says, "and this opportunity has allowed me to explore that."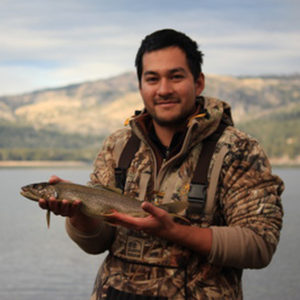 Kousei (Martin) Perales (Ph.D., Vander Zanden)
Martin grew up in southern California and attended Bakersfield Community College before heading to the UC-Davis to earn his bachelor's degree in Wildlife, Fish and Conservation Biology. After graduating, Martin worked in the Peter Moyle fish ecology lab at UC-Davis where he monitored fish communities and mapped aquatic habitat in a tidal freshwater estuary.
Martin has had the privilege of working on issues related to the conservation of native fishes around the world, from Puerto Rico to Thailand to Alaska, and now in northern Wisconsin.
Martin says, "Studying fish has always been synonymous with adventure!" At the CFL, Martin is pursuing a Ph.D. with Jake Vander Zanden and is currently working to understand the consequences of increasing lakeshore development for shoreline habitat and fish communities.
Limnology News, Fall 2017 - Vince Butitta, Allison Moody, Mike Spear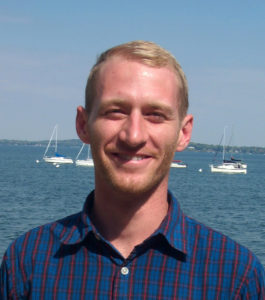 Vince Butitta (Ph.D., Stanley)@VButitta
Vince grew up in Delavan, Wisconsin, and headed to Lawrence University for college where he was mentored by CFL alumnus, Bart DeStasio. While at Lawrence, Vince heard a talk about restoration efforts on his hometown water body, Delavan Lake, and it kindled his interest in aquatic ecology. He embarked on a project mapping spatial patterns of water quality in Lake Winnebago that, he says, "foreshadowed my master's research at the CFL."
After graduating, Vince taught high school science and math before heading to Madison. At the CFL, he completed a master's degree with Emily Stanley, studying early warning indicators of abrupt transitions in ecosystems. He's now "switched gears" for a Ph.D. on the ecology of North America's native freshwater mussels, our continent's most endangered animals.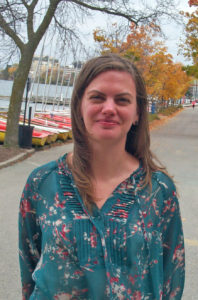 Allison Moody (Postdoc, McIntyre) @atmurre
From Dartmouth, Nova Scotia, Allison planned to stay in Canada and work for the government until, one harsh winter during the middle of her Master's program, she saw a listing for a job in California. After that detour, it was back to grad school for a Ph.D. on the landscape ecology of bird conservation.
At the CFL, Allison is part of Pete McIntyre's lab developing the online tool, FishWerks. She's currently working on a paper and series of maps that show where state agencies or non-profits can get the biggest "bang for their buck" when it comes to freshwater conservation and dealing with dams and road crossings in Great Lakes tributaries.
Despite her time in California, Maine and Madison, Allison hopes to someday head home toward her original goal of working for the Canadian government.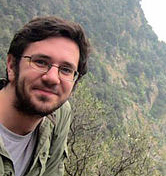 Mike Spear (Ph.D., Vander Zanden) @spearmike
Originally from Mokena, Illinois, Mike arrived at the CFL in 2015 to pursue a Ph.D. with Jake Vander Zanden to study eDNA (fragments of DNA animals leave behind in an environment) and how to use it to identify what's living in an ecosystem.
Unfortunately, his arrival coincided with the discovery of zebra mussels in Lake Mendota. So Mike threw on his SCUBA gear and dove headfirst (okay, feet-first!) into invasion ecology, studying how zebra mussels are colonizing and impacting Madison's lakes.
He hasn't lost his eDNA interest and occasionally ventures to Patrick Krysan's lab at the Genome Center of Wisconsin, but most days find Mike armed with SCUBA gear and a paint scraper, heading out to get clusters of the invaders off nearshore rocks.
Limnology News, Fall 2016 - Dom Ciruzzi, Jessica Corman, Eric Pedersen, John Rodstrom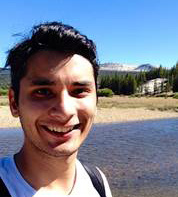 Dom Ciruzzi (PhD, Loheide) @domciruzzi
When he wasn't helping coach aspiring undergraduate researchers as a mentor at TLS this summer, Dom was out bending trees – driving stakes into the ground, shimmying up to a properly high point, tying a strap around a tree and then winching the whole set-up down toward the ground. It was all part of his PhD research on how forests respond to changing climates, specifically in groundwater-forest interactions and the attributes that allow some plants to reduce their vulnerability to drought. When he wasn't in the woods, Dom could often be found indulging in other creative pursuits. He's an avid musician – playing sax, piano, ukulele and even steel drums – and also dabbles in oil and digital painting. Unfortunately for Dom's drought research, this was a wet year for Wisconsin's Northwoods. The good news is that it means he "has" to go back to bending trees next summer.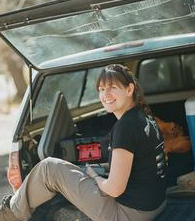 Jessica Corman (Postdoc, Stanley) @limnojess
Jess studies nature through the lens of chemistry, combining techniques from biogeochemistry and ecosystem ecology to understand how elements flow through ecosystems – particularly those vulnerable to nutrient pollution. This year, Jess decided to take that research global, winning a seed grant from the UW's Global Health Initiative to explore what's driving the decline of water quality in Africa's Lake Victoria. 30 million people live along its shore and Jess is excited at the chance to do "awesome, impactful" science in a social context. "[People] are getting their drinking water from the lake, they're eating fish from the lake, they recreate on the lake. They want clear water, obviously, so [this project] is a nice way to combine basic science with endeavors to better communities," she says. Considering that Jess often reminisces about the warmer climate of her grad school days in Arizona, we can't help but think this project may also offer her a nice fieldwork site this winter!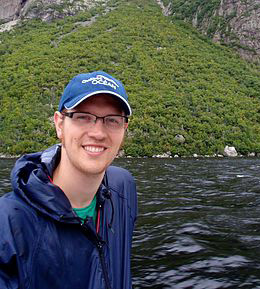 Eric Pedersen (Postdoc, Vander Zanden) @ericpedersen
Eric has been a postdoc at the CFL for two years, where he's spent his time being, as he puts it, "fascinated" by how the dispersal of species drives changes in populations and how human activity shapes ecosystems.  These interests have led to his own long migration. Originally from Saskatchewan, Eric completed a PhD at McGill University in Montreal before coming to Madison. Now he's headed off to a new job pretty much at the easternmost point in North America – St. John's on the coast of Newfoundland. This time, he'll be modeling the dispersal of and helping manage aquatic invertebrates – chiefly shrimp and lobster fisheries – as a scientist with Fisheries and Oceans Canada at their Northwest Atlantic Fisheries Centre. Eric jokes that he fears for his safety, as populations of both invertebrates are declining and he'll be helping set fishing regulations but, knowing that he's both a really nice guy and a veteran of scientific research on the Atlantic's cod population, we think he'll be okay!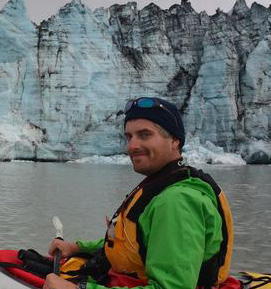 John Rodstrom (MS, McIntyre) @migratoryfishes
John's current research focuses on species of fishes that spend their adult life in the Great Lakes but must migrate up tributaries in order to reproduce. Which was why he spent the spring wading upstream of dams and road crossings in cold Lake Michigan tributaries "ground truthing" the McIntyre lab's maps of the fish barriers in the Great Lakes Basin. "What we're doing," he says, "is surveying during migration to see how many of these barriers fish are able to pass by. We want to know which barriers are truly barriers to fish migration." After the spring run, John was back on the road this summer surveying almost 500 dams in the Lake Michigan watershed to further improve the map. It meant a lot of knocking on doors and asking permission to access property, living out of a suitcase and logging well over 5,000 miles on state vehicles.  "The only way work like this gets done," he says, " is with a grad student."
Limnology News, Fall 2015 - Chelsey Blanke, Hilary Dugan, Etienne Fluet-Chouinard, Luke Loken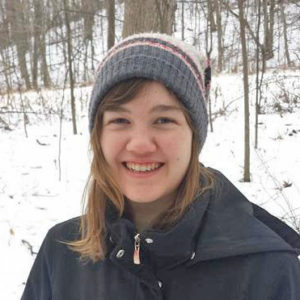 Chelsey Blanke (MS, Vander Zanden) @chelseyblanke
Chelsey is a graduate student in the Freshwater and Marine Sciences (FMS) program who, until recently, spent her days feeding swordfish to guppies and walleye to perch. It wasn't some weird "Island of Dr. Moreau" thing, though. Chelsey was trying to use isotopic analysis of the resulting fish tissue to see if it properly reflected each fish's spot in her experiment's crazy food web. "The idea is that you should be able to go out and grab a fish from any lake, even one you've never studied before, and use this analysis to predict where [that fish] sits in the food web," she explains, which would obviously be huge for our understanding of freshwater ecosystems.  Chelsey is a local and spent her summer, among other things, collaborating on a cool art/science project and hiking Wisconsin trails whenever possible.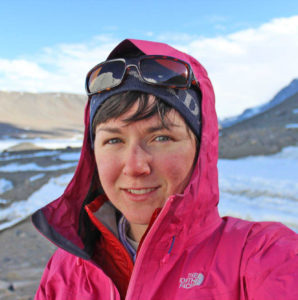 Hilary Dugan (Postdoc, Hanson) @hildug
Hilary studies how terrestrial and atmospheric changes, such as a warming air temperatures or land use patterns, alter biogeochemical fluxes and aquatic processes in inland waters. While she's currently working on northern Wisconsin lakes, one of her past research sites was Lake Vida in Antarctica, where she found that the brine beneath the ice was home to some hardy microbes. Hilary's life in Madison is sedate compared to camping and playing Frisbee on Antarctic lakes, but she's still up for adventure. In fact, she recently biked from Minneapolis to Madison (well, Elroy, long story) just for fun! Hilary calls Canada "the land of three million lakes" home, but doesn't want to think about leaving the CFL, "I have been here a little over a year and loved every minute of it. I'm not ready to leave, so don't ask me what's next," she says.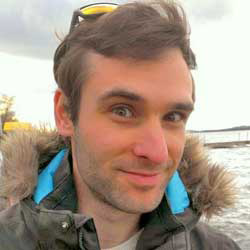 Etienne Fluet-Chouinard (PhD, McIntyre)
Etienne's work at the CFL focuses on wetland degradation, freshwater ecosystem stressors and conservation at the global scale.  If it sounds like a big job, it is, which is why Etienne used his masters degree to get a better look at the problem, creating a new, higher-resolution map of the world's freshwater. The resulting maps zoomed freshwater data points in from 25 square kilometer pixels to data points 500 square meters in size. "That gives you more resolution, and also allows you to distinguish between distinct water bodies and features – which for ecologists is important," he says. Etienne came to the CFL from McGill University in Montreal.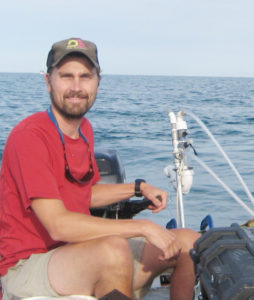 Luke Loken (PhD, Stanley) @lokenluke
As seen previously in this newsletter, Luke had a busy summer, sampling 84 lakes and 1,000+ miles of river. His main fascination is "understanding how biology, geology, and chemistry interact" with aquatic ecosystems. What we see in the water, he explains, is the result of numerous complex processes and as humans continue to directly and indirectly affect aquatic resources, we must understand how these systems respond and will behave in a changing future. Although he hails from South Dakota, Luke hopes to wind up in an agency job in the Pacific Northwest. Luke's love of freshwater sciences came naturally, he says, "I study rivers and lakes because I have always enjoyed being near them. Some of the best memories growing up were paddling down rivers or spending time along lakes. Why not make a career that allows you to enjoy the places you love?" Can't argue with that!