From CFL Newsletter fall 2022
"Drawing Water"Art & Science Mentorship Program Produces Beautiful Results
by Amber Mrnak
This past summer, Trout Lake Station hosted three undergraduate artists for the entire field season as part of a program exploring new ways to share our science with wider audiences. Each student spent time doing fieldwork with a scientist mentor and time in the studio (or outdoors plein air painting) with an artist mentor. Having student artists living and working on station and interacting with other "Trout Lakers" helped students and researchers see the science they interact with daily in new ways and also added a new, vibrant aspect to our community. Below is a sample of each student's work.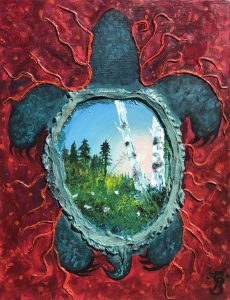 Cameo Boyle
"I want to show our connection with nature through my work. As humans we have the desire to be near nature such as plants and wildlife. We as humans depend on the natural world that supplies our daily needs."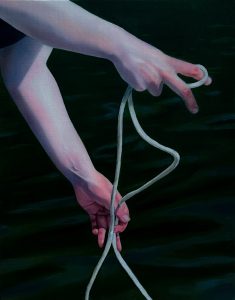 Libby Hetzel
"Nature has always sought ideals. Ideals that are never perfectly realized, but that exist nonetheless: only as intangible concepts… Concepts that humans understand collectively; concepts that are evident in every methodical step we take to study our surroundings."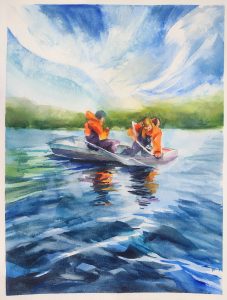 Catherine Nelson
"My work is about connection: bringing people closer to each other and to the natural world around them. Influenced by both science and art, my work in each field is strengthened by skills I've learned in the other."
From TLS Newsletter summer 2022
by Amber Mrnak
drawingwater.weebly.com
2022 brings big changes in the 'Artist-in-Residence' program at Trout Lake Station. Photos below.
Trout Lake Station's long-running artist-in-residence program will be expanding this year in both its mission and the number of faces on station.
For the first time ever, three college interns will be joining the TLS community to work at the intersections of art and science. Also for the first time ever, each intern will be joined by both an artist mentor and a scientific mentor to improve their craft, engage in scientific discovery, and demonstrate the wonders of the natural world to a larger audience.
This change adds many new people to the TLS community and provides opportunities for everyone on station to interact with the artists and benefit from their perspectives on the research we do.
Discussions with both student and mentor candidates for this position have shown that there is a real need for mentorship to show aspiring artists what is possible when it comes to sharing scientific concepts through their art. Many students have discussed how pivotal this opportunity will be for their personal lives as well as their careers. As the first year begins, we are excited to see new connections form and new opportunities unfold as these two passions for art and science unite and new paths toward careers in art and science unfold.
This partnership also provides opportunities to strengthen collaboration between local agencies with similar missions. Science mentors will come from three local sites: the Wisconsin Department of Natural Resources, Lac du Flambeau Tribal Natural Resources, and UW-Madison Trout Lake Station. The student artists' limnology experience will grow as they actively participate in research in fisheries, wetlands, and aquatic plants at their respective sites.
Not only are the student interns enthusiastic to get started, but their artist mentors are eager to help them shape their craft. While the artist mentors have been working professionals for many years, they are looking forward to the inspiration that will come from working with someone new and the joint experiences they will have in the field with the scientists.
The interns are looking forward to gaining experience in a community that holds high value in both art and science. Hopefully this opportunity inspires them to become mentors for other young artists. They are looking forward to showing local middle school students how art and science aren't mutually exclusive and that their lives and careers can feature both.
We hope that you will follow along with us this summer as we plan events and galleries to showcase the art and the science that inspires it.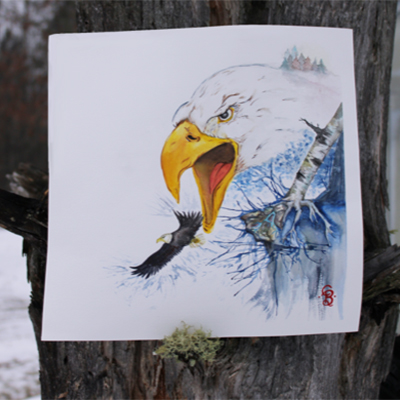 Cameo Boyle, Undergrad Nicolet College