by Adam Hinterthuer
For nearly one hundred years, TLS has helped facilitate research to better understand, manage and protect northern Wisconsin lakes. But for the members of the Lac du Flambeau Band of Lake Superior Chippewa Indians, knowledge about these amazing freshwaters goes back to long before University of Wisconsin researchers drove up from Madison in the early 1900's.
Trout Lake Station occupies ancestral Anishinaabe (Ojibwe) land and is located within the Ceded Territories of the Lake Superior Chippewa Tribes. It is also only a dozen miles from the sovereign nation of the Lac du Flambeau Tribe. The Tribe has called the area home since 1745, when Chief Keeshkemun led them west from the east coast in search of the "food that grows on water." That food was manoomin, or wild rice, and it is now one of several ways in which TLS and the Lac du Flambeau Tribal Natural Resources Department are connected.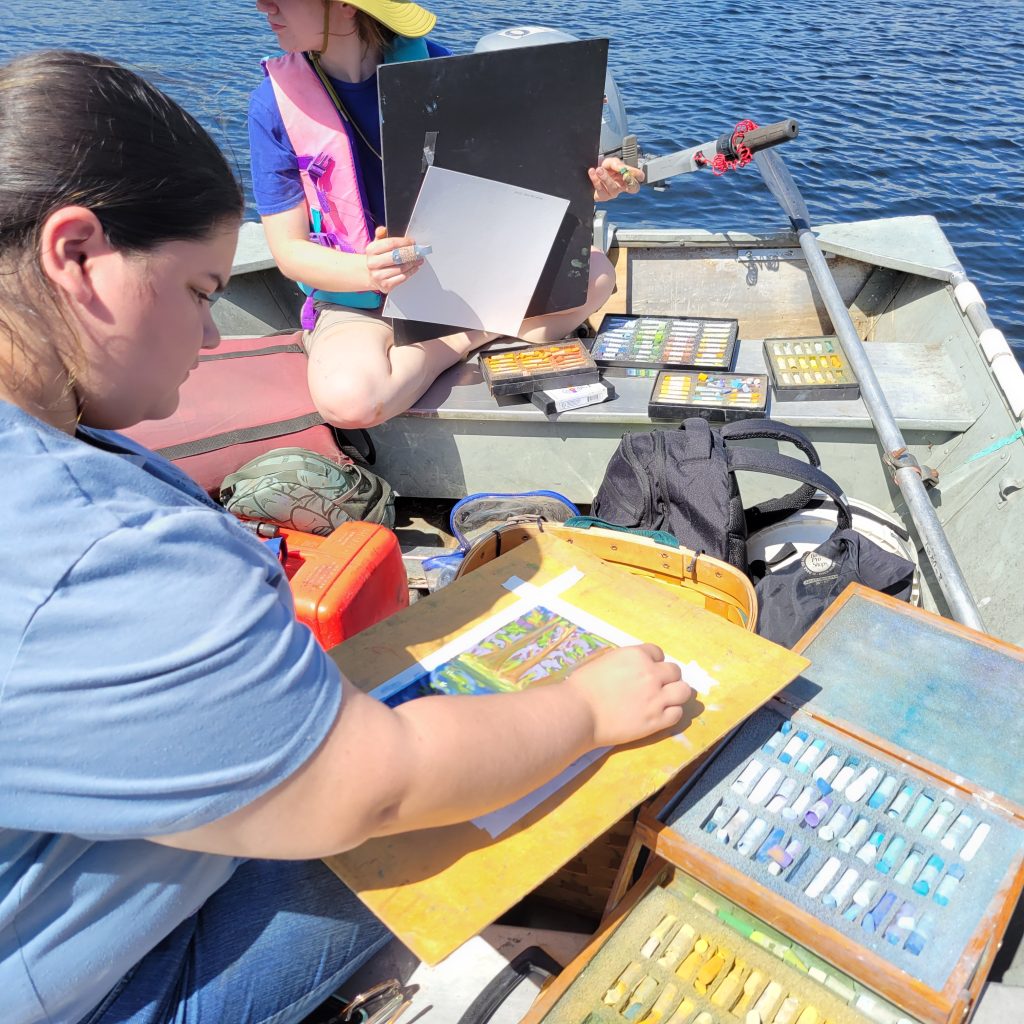 In fact, the Tribe and TLS are currently collaborating on a number of projects – from research on wild rice and walleye parasites, to projects on the intersection of science and art and workshops designed to connect Indigenous community members with the freshwater sciences.
These collaborations "just make sense," says Celeste Hockings, Natural Resource Director for the Lac du Flambeau Tribe. "It's how our department works," she says. "We are very holistic in thinking about how what we're doing informs or impacts other departments or projects." Partnerships with TLS connect university scientists to the Tribe's deep knowledge of Northwoods waters and give her department access to resources they may not have on hand.
TLS Director, Gretchen Gerrish, agrees that the Tribe is a "natural" partner for much of the work being done on station. While Indigenous perspectives have been integrated into research projects "episodically" over the years, Gretchen says those initial relationships now appear to be leading to more formal collaborations.
For example, TLS and the Tribe are currently partnering on a WI DNR surface water grant to document wild rice declines in lakes both on the reservation and in the Ceded Territories. And the "Drawing Water" program, a science communication effort that connects student artists with scientist and artist mentors, was a good fit for collaboration on a grant. Not only is "art inherent in the Tribe's interaction with the landscape," Gretchen says, "but one goal of the project is to better connect with community members in the region."
One of those community members is TLS postdoctoral researcher Ray Allen. Ray grew up on the Lac du Flambeau reservation and was recently elected as a general council member for the Tribe. After receiving his Ph.D in biology from Duke University, he moved back home and began studying how climate change is impacting freshwater fishes.
During graduate school, Ray participated in a Summer Internships for Indigenous Peoples in Genomics workshop (SING). SING was designed to bring more Indigenous leadership and perspectives into the field. That experience "was my first time being in a room with so many other Indigenous researchers," Ray says, and it enabled him to begin to "build a community."
Inspired by that experience, Ray developed a successful proposal to create a similar program for the freshwater sciences here. Called Phenological Workshops for Indigenous Peoples in Limnology, or PhIN for short, the project will connect Indigenous people from all different career stages and backgrounds to the basics of limnological research and create conversations about freshwater resources and important cultural and socio-economic impacts.
According to Celeste, this summer's large number of collaborative projects raises one big question – "Why not?"
"[Trout Lake Station] is only fifteen minutes away from us and species, in general, do not know boundaries," she says. "Managing any resources, you have to think of the whole picture. In order to protect those resources, what better way than building relationships with TLS and other associations and groups throughout the Ceded Territories?"