---
Contact Adam Hinterthuer at Hasler Lab or Amber Mrnak at Trout Lake Station to learn more about outreach and event opportunities or to plan a field trip to Hasler Lab or Trout Lake Station.
---
The Center for Limnology is committed to the full inclusion of individuals with disabilities. Our Hasler Laboratory facility in Madison was built before the Americans with Disabilities Act and is not accessible. If you need a reasonable accommodation to participate in any department event, please email limnology@mailplus.wisc.edu AND monet.hutchins@wisc.edu or call 608-262-3014 at least 10 days before the proposed event.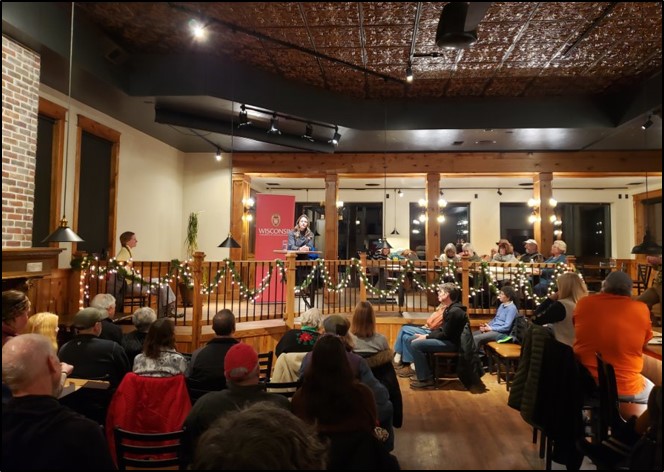 Forget the lecture, at Science on Tap-Minocqua, you won't find jargon or a PowerPoint presentation – we search for scientists who are good at well, not sounding like a scientist. Our topics are wide ranging, spanning issues from bacteria to bees and from a search for life on other planets to a search for the perfect pint.
Science on Tap-Minocqua is the result of a unique partnership among UW-Madison's Trout Lake Station, UW-Madison's Kemp Natural Resources Station, the Lakeland-Badger chapter of the Wisconsin Alumni Association, the Minocqua Public Library, WiXPR, and Oakfire Pizza that exemplifies the Wisconsin Idea – that the boundaries of the University are the boundaries of the state.
The Center for Limnology, which includes both Hasler Lab and Trout Lake Station, is an inclusive and welcoming environment. We do not tolerate racism, sexism, homophobia, or discrimination of any type for any reason.