Covid-19 Notice
All campus events are canceled beginning 5 p.m., Friday, March 13. Even if an event is not yet labeled as canceled, it's likely to be canceled, postponed or modified to online only. Please check with organizers before attending.
Watch for information in about Grandparents University (OFFICIALLY CANCELED FOR IN PERSON, VIRTUAL OPTIONS BEING DISCUSSES) July 16-17 and July 23-24. You can also find out more about North Temperate Lakes' life long learning opportunities here.
And we are sad to announce that our annual HASLER LAB Open House has been canceled for summer 2020. Hasler Lab was scheduled for June 19, 2020.
AT THIS TIME, we are excited and hopeful that the Trout Lake Station Open House is STILL SCHEDULED for July 31, 2020.
Contact Adam Hinterthuer at Hasler Lab or Gretchen Gerrish at Trout Lake Station to learn more about outreach and event opportunities.
Newsletters | Awards & Recognition | CFL in the News
---
SCIENCE ON TAP – CANCELED UNTIL FALL 2020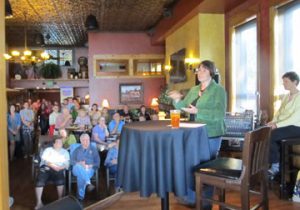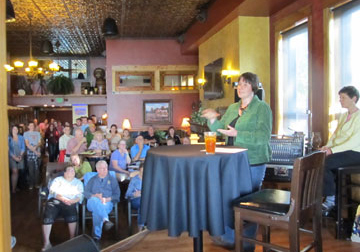 Science on Tap: Forget the lecture. At Science on Tap, you won't find jargon or a PowerPoint presentation. We search for scientists who are good at, well, not sounding like a scientist. Our topics are wide ranging, spanning issues from bacteria to bees. Free, fun and open to everyone!
Science on Tap – Madison – SEE FB PAGE FOR UPDATES
Science on Tap – Minocqua – CANCELED UNTIL FURTHER NOTICE
Weekly Seminar – Madison – VIA ZOOM ONLY (SEE WEBPAGE)
CFL students, staff, and faculty participate in educational efforts throughout the state. We receive calls from all over Wisconsin with questions about water, fish, aquatic habitat, and state regulations.
HASLER LAB CANCELED FOR SUMMER 2020
TROUT LAKE STATION CURRENTLY SCHEDULED FOR JULY 31, 2020