The Anna Grant Birge Memorial Scholarship Fund was established on October 3, 1983 by Eugene L. Grant in memory of his first cousin, Anna Grant Birge. Anna Grant Birge was the daughter of Edward A. Birge, president of UW-Madison from 1918-1925 and a pioneer in the field of limnology.
Eugene Grant received his BS in 1917 in Civil and Environmental Engineering and a "ZC" in 1928 in Civil Engineering. Anna Grant Birge received her BA in 1906 in Letters and Science. The Fund supports graduate scholarships for summer programs in the Center for Limnology, College of Letters and Science, at UW-Madison.  The recipients shall be graduate students in the field of Limnology. Scholarships shall be awarded for the summer term, with preference given to students who are to be engaged in investigations on the lakes of Wisconsin. Individual award sizes vary but are typically between $1000 and $2000.
Deadline for proposal & letter of endorsement: Thursday, March 7, 2024.
Recipients will work with CFL Financial Specialist John Burmaster for purchase/payments of approved proposal research expenses. Awarded funds must be used by December 31 of the year awarded. If there are extenuating circumstances prior to December 31, these should be discussed with advisor and John Burmaster to extend purchase(s) past deadline.
Proposals may be submitted jointly by more than one student.
Recipients may be asked to give a brief presentation of their work to the Limnology informal noon seminar in the fall.
Applicants will be notified of the decision by mid-April.
Examples of appropriate proposals include:
Travel expenses to research sites (i.e. UW fleet vehicle expenses)
Expendable supplies and equipment
Laboratory analysis fees
Examples of inappropriate use of the funds include:
Stipends
Compensation of student hourly assistants
Personal gear
Funding a portion of an equipment purchase, the balance of which would be funded by a research grant
Submit the following in pdf format to Kelly O'Ferrell:
Description of the proposed work

Maximum two pages including figures
Citations can be on a third page

Budget and justification

Maximum one page combined.
The budget should be organized in a table.
The justification should be a brief statement for each item in the budget table stating how it is related to the research objectives.

Your wisc.edu email, program, and advisor
Letter of endorsement from sponsoring faculty member (Advisor can email separately to Kelly by March 7, 2024)
Example budget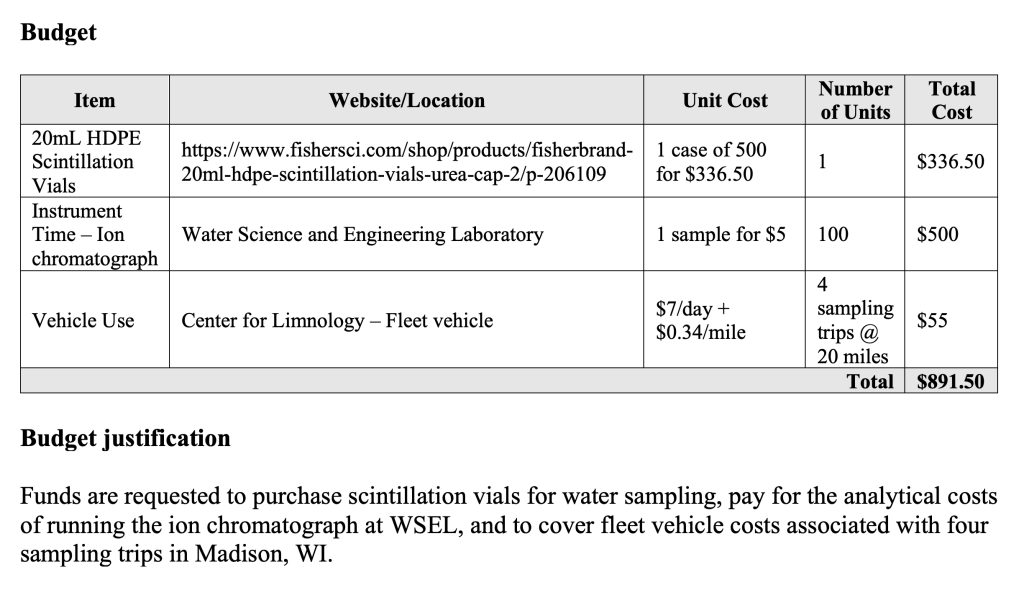 Note: Funds do not go directly to students. All purchasing will be made through UW Center for Limnology. Supplies must be purchased via routes allowable by UW-Madison (i.e. Shop@UW).