Art + Science at Trout Lake Station, Wisconsin, By Aubrey Vaughn
Page header photo: Artwork from the first meeting of scientists, educators, and artists that convened in 2006 to discuss the Paradise Lost? project—part of exchanging ideas and methods of discovery and communication. Photos by Jamie Young.
"Long-Term Ecological Reflections
By 2010, more than 100,000 people in the northern Midwest had viewed the touring science-inspired art exhibit Paradise Lost? Climate Change in the North Woods. It had traveled two years longer than planned, ferried from community to community by a U-Haul and Terry Daulton, the biologist and artist who first proposed the project. It was a success beyond what any of its originators imagined when it was first proposed in 2006."
Read full article and see photos at Terrain.org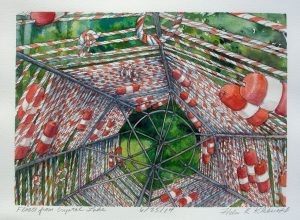 Year arts activities began: 2006
Writers and artists hosted: 38 artists, including fiber artists, painters, writers, poets, and sculptors have been an artist-in-residence, with additional artists participating in the first art program, Paradise Lost? Learn more about the artists and view the works of current artists and former residents.
How to apply: Trout Lake Station begins accepting applications each fall with the final deadline in January/February the following calendar year. Applicants fill out an online form and submit samples of their work. Learn more.
Art@Hasler Lab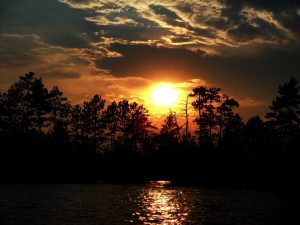 At the CFL Hasler Lab in Madison, WI friends of the Center for Limnology have graciously shown their art at Art@Hasler Stairway – an informal venue for folks who appreciate art and courage. Please contact Kelly O'Ferrell if you are interested in showing at the Hasler Lab in Madison, WI.