Call for Artists-Drawing Water: Engaging Community through Art & Science in Northern WI
Application Deadline November 26
Position term: April 2022-September 2022
Stipend: $2000
Eligibility, Commitment, and Application
 The University of Wisconsin, Madison at Trout Lake Station (TLS) in Boulder Junction, Wisconsin, along with partners at the Lac du Flambeau Tribal Natural Resources Department (LDF) and the Wisconsin Department of Natural Resources Northern Highland Fishery Research Area (WDNR) seek three artists to participate in mentorship of college interns on the diverse ways they can use art to interpret local science focused on our waterways.
The goal of the art and science collaboration is to demonstrate the beauty of the natural world and the scientific process; bridge communication and interest for varied groups of people; and encourage the next generation to link art and science to generate a richer and wider value system. Student interns will join an artist mentor and scientist mentor to focus on communicating an existing water related research topic that is of special interest within the regional community. The artist will be paired with a local scientist from one of the three sites (TLS, LDF, and WDNR) and a student intern. The collaboration with the artist, scientist, and intern will go on from April/May through August.
Required
Demonstrated experience as an artist (we are open to diverse media formats!).
Enthusiasm to contribute time, energy, and experience toward co-mentoring an undergraduate intern working within the overlap of science and art.
Preferred
Proximity to Trout Lake Station so that interns can visit or work with artist mentor in their workspace.
Familiarity with the Artist in Residence Program at Trout Lake Station.
Expectations
The artist will:
Be available to meet in person for the first planning session in April or May.
Meet with the intern a minimum of once a week (with at least one of those meetings per month in person) through the summer.
Attend a minimum of four Summer Seminars at Trout Lake Station on Wednesday evenings and will present with the interns and other artists at one seminar.
Spend time in the field with the intern and scientist.
Guide and assist the intern in developing project concepts as well as technical aspects of art technique and creative process.
Assist the student in developing outreach events to engage the community in their work. The artist will work with the scientist and student team to plan outreach events for the community.
Assist the student as they plan a summer art camp for middle school students with cooperating educators.
Create at least one art piece (visual, writings, film, etc.) to be included in a traveling exhibit for summer 2024 and added to Trout Lake's the online gallery, drawingwater.weebly.com.
Application Process
Artists working in 2 and 3 dimensional media, musicians, performance artists and creative writers are encouraged to apply. Application will include a resume, statement of interest and samples of work.  All work must be original, no commercial molds, patterns, kits or laser prints will be accepted.  The Artist-in-Residence jury will select artists. Please note that selection will also consider the broader impacts of your work in enhancing community understanding and appreciation of waterways in the region.
Visual artists should submit three digital images that accurately represent the quality and style of their work.  Artists working in three dimensions may include two images for each piece.  Images must be labeled with name, medium(s), image size (height x width).  Digital images should be in Jpeg format.
Musicians should submit up to three MP3 files.
Dancers or other performing artists may submit up to three short videos in avi format.
Poets should submit a maximum of five poems, and prose/essay writers should submit a maximum of five pages in pdf format.
After uploading your media and entering all other information, click the 'submit' button.  You will be taken to a page confirming successful submission, and you will receive a confirmation e-mail.
Please contact us if you do not see the confirmation page after clicking on 'submit'.​
Art + Science at Trout Lake Station, Wisconsin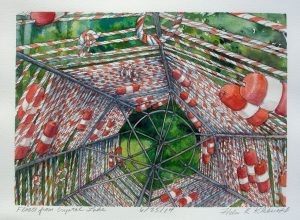 Long-Term Ecological Reflections  By Aubrey Vaughn
By 2010, more than 100,000 people in the northern Midwest had viewed the touring science-inspired art exhibit Paradise Lost? Climate Change in the North Woods. It had traveled two years longer than planned, ferried from community to community by a U-Haul and Terry Daulton, the biologist and artist who first proposed the project. It was a success beyond what any of its originators imagined when it was first proposed in 2006."
Year arts activities began: 2006
Writers and artists hosted: 38 artists, including fiber artists, painters, writers, poets, and sculptors have been an artist-in-residence, with additional artists participating in the first art program, Paradise Lost? Learn more about the artists and view the works of current artists and former residents.
Art@Hasler Lab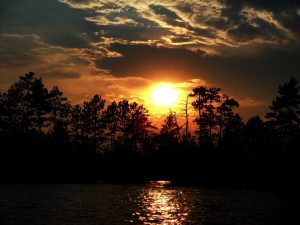 At the CFL Hasler Lab in Madison, WI friends of the Center for Limnology have graciously shown their art at Art@Hasler Stairway – an informal venue for folks who appreciate art and courage. Please contact Kelly O'Ferrell if you are interested in showing at the Hasler Lab in Madison, WI.